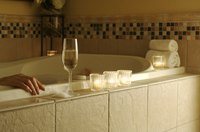 Southern Indiana is filled with rolling hills covered with woodlands nestled near various bodies of water. Visitors are able to take in the amazing views of Southern Indiana's natural wonders, including the Patoka Lake and Ohio River. This region offers travelers a variety of accommodations, including hotels, resorts and cabins. Southern Indiana cabins offer various amenities, including porches and hot tubs.
Ohio River Cabins
Ohio River Cabins in Derby, Indiana sits on the shores of the Ohio River. This rental company offers cabins, cottages and RV campsites. Guests can reserve lofts to four-bedroom accommodations. The "Merrymaker" cabin comes with a fully equipped kitchen, fireplace, central air and heat, hot tub and wrap-around porch. Anglers enjoy fishing for bluegill, rainbow trout and stripers. Other activities include hiking, boating and biking. Pick up groceries at the Derby General Store.
Ohio River Cabins 13445 N. State Road 66 Derby, IN 47525 812-836-2289 ohiorivercabins.com
Vinnie's River Cabins
Vinnie's River Cabins offers two cabins along the Ohio River. The "Dawn Star" cabin has cathedral ceilings, a complete kitchen, washer, dryer, hot tub and porch. The "River Edge" cabin sleeps up to 14 guests and provides a fireplace, a washing machine, dryer, porch and hot tub. Area attractions include Hoosier National Forest and the Old English Golf Course. Dining options include Betty Ray's Landing and Capers Restaurant.
Vinnie's River Cabins 19150 N. State Road 66. Mount Pleasant, IN 47520 812-843-4848 812-457-9501 vinniesrivercabins.com
Colucci Log Cabins
Colucci Log Cabins sit near the Ohio River, about 14 miles off Interstate 64. Cabins come with fully equipped kitchens, air conditioning and hot tubs on the porch. Pick up gas and groceries at the Derby General Store and Guillaume's Store within 10 miles. Attractions within 20 miles include Winzerwald Winery and French Lick Winery. Dining options include Overlook Restaurant, Capers Restaurant and Patio Steak House.
Colucci Log Cabins 17735 Magnet Valley Road Magnet, IN 47520 866-452-9431 coluccirivercabins.com