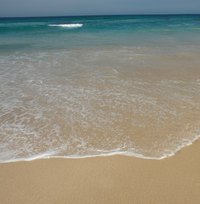 Myrtle Beach, South Carolina sees many visitors every year, ranging from teenagers looking for summer fun to families looking for a relaxing time together. Various accommodations exist in the area, including several affordable motels located along the main strip between the old Pavilion area and the Family Kingdom Amusement Park. With many locations along the newly constructed Boardwalk, these motels offer central location as well as affordability on this popular east coast shoreline.
Emerald Shores Family Motel
Located on Ocean Boulevard near the 2nd Avenue Pier and within walking distance of both the Pavilion and the Family Kingdom Amusement Park, the Emerald Shores offers accommodations only to families and married couples. Advertising an indoor and outdoor pool, a lazy river and a scenic lawn area, the Emerald Shores Motel provides a simple but pleasant stay for its visitors.
Emerald Shores 404 North Ocean Blvd Myrtle Beach, SC 29577 843-448-3276 emeraldshoresfamilymotel.com
Sea Palms Motel
Located directly in the Pavilion area, the Sea Palms Motel is only a block away from the Boardwalk and offers many amenities. Among other things, it offers free transportation to and from the airport, private balconies, two pools, daily housekeeping service and a sun deck. While not offering as many amenities as a large resort, the Sea Palms Motel boasts a superior location and affordability, even during peak season.
Sea Palms Motel 308 7th Avenue North Myrtle Beach, SC 29577 843-448-2825 seapalmsmotel.com
Holiday Sands North
A family-centered establishment on the Myrtle Beach strip, the Holiday Sands North sits right on top of the Boardwalk, catering mainly to families and couples. Situated within walking distance of various shops, dining and amusements, the Holiday Sands also offers several pools, a café, a fitness center, a video game room, various golf packages and a scenic oceanfront location.
Holiday Sands North 400 North Ocean Blvd Myrtle Beach, SC 29577 800-448-1091 holidaysandsnorth.com
The Windsurfer
Located between the Pavilion area and the Family Kingdom Amusement Park, the Windsurfer sits right on the Atlantic Ocean. With the Boardwalk winding right in front of the property, guests can easily walk to other oceanfront locations for shopping or dining. Offering a pool, Jacuzzi suites, optional efficiency apartments and private balconies, the Windsurfer is family-owned and ideal for those looking for a quiet place to stay in busy Myrtle Beach.
The Windsurfer 210 North Ocean Blvd Myrtle Beach, SC 29577 800-789-3123 windsurferhotel.com
Sea Cove
Situated in the heart of Myrtle Beach, the Sea Cove has a great location a few blocks from the Family Kingdom Amusement Park. Across the street from the ocean and the Boardwalk, the Sea Cove welcomes all guests. Offering one-bedroom rooms all the way up to penthouse suites, this establishment strives to be a home away from home for travelers.
Sea Cove Motel 305 North Ocean Blvd Myrtle Beach, SC 29577 800-346-2957 seacovehotel.com