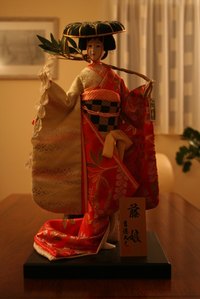 Japanese hairstyles have undergone many changes throughout the nation's history--hairstyles varied with cultural influence and between different socio-economic classes. Traditional Japanese hairstyles varied from the topknot of the samurai to the elaborate hairstyles of the geisha to the long, flowing hair of ancient nobility. Japanese hairstyles were often dictated by Imperial or shogun mandate.
Taregami
The taregami hairstyle was a product of the Heian period. According to the British Museum, this period marked the rise of courtly culture centered around nobility and the end of Chinese influence on Japanese culture. The Japanese noblewomen began wearing their hair as long as possible without binding it. Long, flowing hair was considered the height of Japanese beauty during this time because noblewomen were expected to remain sedentary most of the time. The novel "The Tale of Genji," written by a Japanese noblewoman named Murasaki Shikibu, describes women wearing the taregami hairstyle.
Chonmage
With the decline of the Heian court came the rise of the samurai military class, who took over Japanese culture. The Kamakura, Muromachi and Sengoku periods, or height of the samurai class from 1194 to 1600, saw simpler and more practical hairstyles. The distinctive hairstyle of the samurai was the chonmage, or topknot. Several varieties of chonmage existed, ranging from the simple Chinese-inspired ponytail half-loop topknot to the mitsu-ori, or a topknot folded forward onto the head. The mitsu-ori was popular during the late 16th century. In the 21st century, the only common wearers of the chonmage are sumo wrestlers.
Shimada
With the unification of Japan in the early 1600s came the rise of civilian culture. One of the most distinctive cultural figures of the Edo period was the geisha, or hired entertainer/artist. All geisha wore their hair in one of several hairstyles collectively called shimada. The most commonly seen hairstyle is known as the momoware, or split peach, and is worn by apprentice geisha known as maiko, according to Beauty and the Bath. The momoware is a high bun that splits in two along the middle.