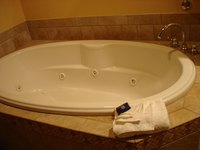 With over 13,000 hotel rooms across the city, according to Tulsa's visitors' bureau, travelers should find every type of accommodation to suit their needs from family-friendly motels to luxury suites. After a day of business or exploring one of the city's 130 parks or other attractions, a room with a private Jacuzzi may be the perfect way to end a busy day in Tulsa.
Best Western Tulsa Inn & Suites
Conveniently located near the Tulsa Convention Center, the Best Western Inn and Suites features king-bed suites with in-room hot tubs for the ultimate in relaxation. A refrigerator and microwave are also provided to store snacks and beverages and a complimentary full breakfast is served each morning. Other suites have sofa sleepers and all rooms include free high-speed Internet access. An indoor pool, exercise room and steam room are available to all guests and a restaurant serving lunch and dinner is adjacent to the hotel. The Best Western Tulsa Inn and Suites is located near the interchange of Interstate 44 and the Broken Arrow Expressway and is eight miles south of the Tulsa Airport.
Best Western Tulsa Inn & Suites 3212 S. 79th East Avenue Tulsa, OK 74145 918-858-2100
bestwesternoklahoma.com
Holiday Inn Tulsa City Center
Take in the view from a private balcony at a top-floor suite with a whirlpool at the Holiday Inn. Watch a movie on a flat-screen television after a room-service meal at the dining table and then retreat to a king-sized bed with upgraded linens. With 220 rooms on 15 floors, the Holiday Inn City Center is ideal for guests seeking downtown Tulsa accommodations near urban amenities. Guests can swim in an indoor saltwater pool with retractable roof or exercise in the fitness center after a day of exploring the city or conducting business. A free shuttle transports guests throughout downtown Tulsa, although many restaurants and attractions are located within walking distance of the Holiday Inn.
Holiday Inn Tulsa City Center 17 West 7th Street Tulsa, OK 74119 918-585-5898 holidayinn.com
Americas Best Value Inn--Tulsa Airport
For convenient access to the Tulsa Airport, reserve a king Jacuzzi suite at America's Best Value Inn. A sofa sitting area is located near the hot tub as well as a mini-refrigerator and microwave for preparing and storing snacks and beverages. Take advantage of complimentary wireless Internet service and also a continental breakfast each morning. A park-and-fly option is available at America's Best Value Inn and free shuttle service to the airport is provided to all guests. Children younger than 13 years old stay free with a parent and nearby attractions include a water park, the Tulsa Zoo and 53-acre McClure Park with a pool, walking trail and sports fields.
Americas Best Value Inn--Tulsa Airport 1016 N. Garnett Road Tulsa, OK 74116 918-438-5050 americasbestvalueinn.com