Argentina is the second largest country in South America and produces more than 4 percent of the world's beef from its huge cattle ranches. Argentinean cuisine is largely based on beef dishes and fruit, with a small amount of seafood, chicken and vegetables. A traditional dinner party begins with appetizers, centers on a beef main dish and concludes with dessert.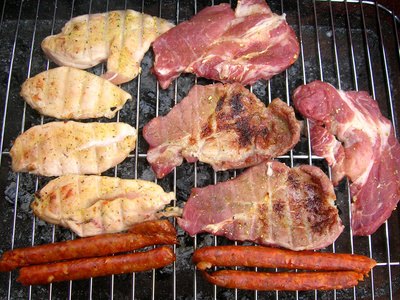 (meat on the grille image by Julija Sapic from Fotolia.com)
Begin a meal with a picada, or cold platter, filled with salami and ham slices. Olives, peanuts and pickled vegetables are good choices, as well as crusty bread and cheese slices or brie. A picada is considered "a little something to nibble on before the asada," or grilled main meal.
Another popular appetizer is ceviche, a cold dish of raw seafood that has been marinated anywhere from three to 48 hours in lemon and lime juice. Ceviche also includes diced red onions, tomatoes, bell peppers and cucumbers and spices such as cilantro and chilies. It is served with avocado slices.
Olives. Olives on a plate of crockery. Starter. Food image by L. Shat from Fotolia.com
Parrillada, meaning barbecue, is a festive grilled mixture of many cuts of meat. Meat, specifically beef, is the main component of the Argentinean diet. A parrillada consists of grilled steak, sausages, chicken and sometimes seafood. Offal is often included in a parrillada, such as hearts, liver, sweetbreads, kidneys and even lower intestines and bladders.
Carbonada is another favorite Argentinean dish. It is spicy beef stew made with potatoes, sweet potatoes and small pieces of corn on the cob.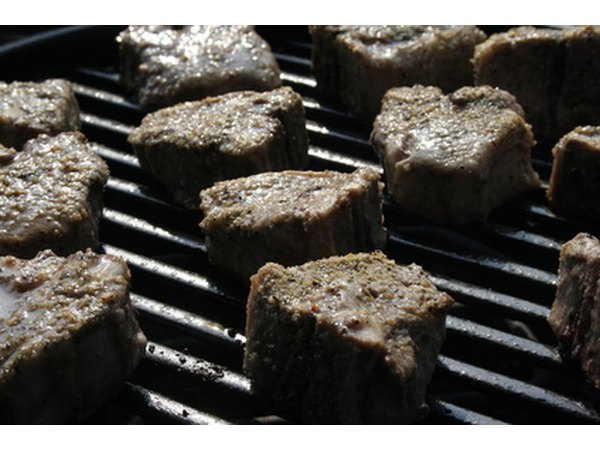 meat on grill image by blaine stiger from Fotolia.com
Vegetables are not very prominent in the typical Argentinean diet but they can occassionally be found at dinner parties and in other dishes. Grilled vegetables such as eggplant slices or squash and zuchini can be included in a parrillada.
Plain lettuce and tomato salads are a cool accompaniment to hot grilled meats. Vegetables are added to stews but these are usually potatoes and corn.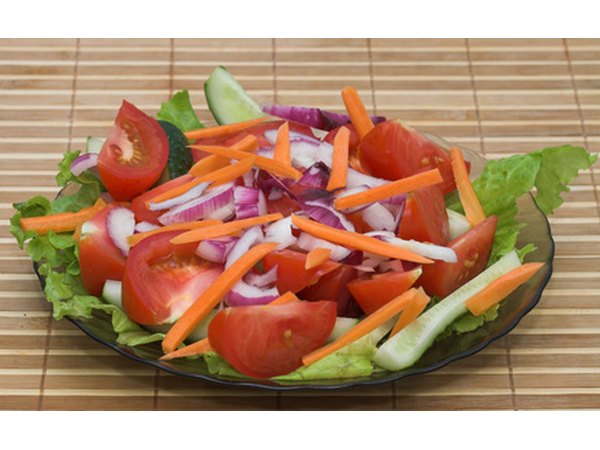 salad image by sp-v from Fotolia.com
For most meals, dessert is fruit salad and fresh fruits. Favorite fruits include peaches, apricots, plums, pears, cherries, grapes and the fruit of the prickly pear cactus.
For a dinner party, a flan may be served. Flan is a cream custard made with eggs, condensed and evaporated milk. Flan can also made with a sugar caramel base in the pan that becomes a sweet, crunchy topping when the flan is inverted onto a plate.
Alfajores are a popular dessert that consists of sweet biscuits similar to shortbread and served with dulce de leche, a sweet caramelized condensed milk spread on the biscuits.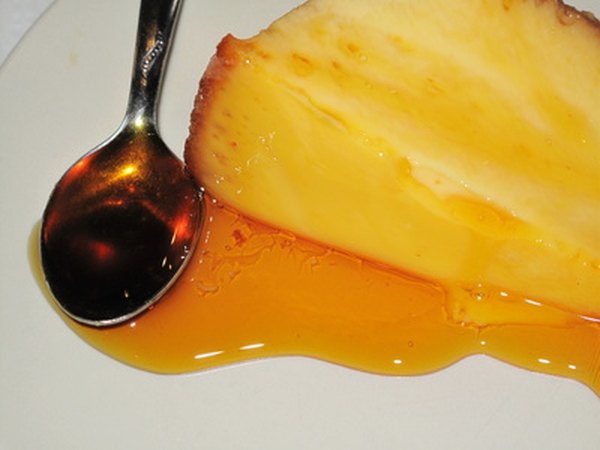 Crème caramel image by Blue Moon from Fotolia.com
Promoted By Zergnet