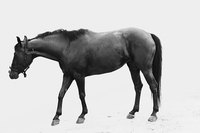 Reserpine is a medication derived from the Indian Snakeroot plant and marketed in 1952 for the treatment of high blood pressure. It was later used as an anti-psychotic, due to its tranquilizing effect. Reserpine has largely been replaced with more effective anti-hypertensive and anti-psychotic medications that have fewer side-effects. Reserpine is not approved as a veterinary medication.
Background
Reserpine is a naturally occurring chemical and has been extracted from the Indian Snakeroot plant for hundreds of years. It was brewed as a tea by traditional herbal practitioners and used to treat high blood pressure, snakebite, insanity, and cholera. Snakeroot tea is also reported to have a tranquilizing effect.
Effects
According to Wedgewood Pharmacy, reserpine has a long-acting tranquilizing effect on horses. It has been used illicitly to sedate difficult horses for horse shows or to present an excitable horse to potential buyers as being more manageable than it really is. It has also been used to sedate horses that are on enforced rest for health reasons. Until the recent development of more sensitive tests, reserpine was difficult to detect. Tests can still be complicated by the presence of similar plants found in horse supplements and pastures.
Side Effects
Reserpine has not been formally tested for veterinary use and reports of side effects are largely anecdotal. Side effects in humans include vomiting, diarrhea, irregular heartbeat, nasal congestion, impotence, drowsiness and muscle aches. Observed side effects in horses include colic, mild diarrhea lasting for several days, and localized sweating on the back and hind legs. Side effects of sedation include lethargy, drooping eyelids and a dropped penis. Penile paralysis in stallions is a possible side effect.
Warnings
The United States Equestrian Federation (U.S.E.F.) has issued a list of substances that are forbidden for use in equine competitions. Reserpine is included in this list. According to Practical Advice Regarding the 2005 Equine Drugs and Medications Rule, "Any product is forbidden if it contains an ingredient that is a forbidden substance, or is a drug which might affect the performance of a horse and/or pony as a stimulant, depressant, tranquilizer, local anesthetic, psychotropic (mood and/or behavior altering) substance, or might interfere with drug testing procedures." The U.S.E.F. further cautions owners to refrain from using products of any kind, "the ingredients and qualitative analysis of which are not specifically known," since their horse may test positive for reserpine and be disqualified from competition.