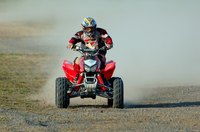 For adventure-seekers or those with an interest in motorcycles, ATV riding is another alternative. ATVs, or four-wheel off-road vehicles, are driven on designated trails, typically along-side dirt bikes. Drivers may navigate trails through the mud or other obstacles, compete in races or follow trails operated by resorts. Georgia is the home of ATV trails for beginners and experts, some which are near Atlanta.
Highland Park Resort
Located west of Atlanta, Highland Park Resort is home to one of the largest KTM (dirt bike) facilities in North America. It is a 1,000-acre resort with a one-way trail system designed for motorcycles and ATVs, a 2.5-mile long MXGP course for motocross bikes and a pee-wee track for beginning riders. Highland Park offers five cabins for rental, motorcycle rentals and free riding school courses designed to improve riding skills. The resort also provides discount prices for weekdays and holidays and hosts events, such as the annual Hatfield McCoy Adventure Ride, which is a weekend riding trip on three large trail systems in Georgia.
Highland Park Resort 1501 Culp Lake Road Cedartown, GA, 30125 770-748-0771 highlandparkresort.com
Durhamtown Plantation
Durhamtown Plantation is a family-owned off-road resort in Union Point, Georgia with over 100 miles of one-way trails designated for ATVs and dirt bikes. The resort operates nine tracks including the Freestyle Park, Pee Wee Track for beginners and the Super Cross Track for experts. Rentals are available for dirt bikes, ATVs, cabins, RVs and all necessary riding equipment. Family radio systems are also available for rental. The resort provides a repair shop with certified technicians, a full-service restaurant and the Durhamtown Proshop, one of the largest inventory dealers in the Southeast part of the country. Other activities include hunting in the outdoor range or fishing the 3.5-acre pond on the premises.
Durhamtown Plantation 2350 Randolph Church Rd. Union Point, GA 30669 706-486-4603 durhamtown.com
Sunnyside ATV Paradise
Located just 16 miles outside of Atlanta, Sunnyside ATV Paradise is comprised of 823 acres with approximately 50 miles of trails. These are privately-owned trails in Wren, Georgia, open to the public on weekends. Trails are designed for expert ATV riders, as they are located on muddy, hilly terrain. Helmets are required for all riders and minors must have a signed parent or guardian waiver. Sunnyside ATV Paradise has an on-site concession stand and a restaurant less than one mile away. Free primitive camping is available on a first-come, first-serve basis on Saturday nights.
Sunnyside ATV Paradise 7107 US Highway 221 North Wrens, GA 30833 704-678-2193 sunnysideatv.com