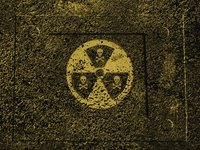 Most nuclear power waste in the United States today remains at the reactor sites themselves. However, the US government considers these sites temporary and aims to move waste into permanent, federally-managed and centralized sites, such as the Yucca Mountain site in Nevada. The permanent facilities present the most desirable option for nuclear power plants, while storage of waste on site requires the power plants to maintain responsibility for this hazardous material.
Release From Accountability
The US Atomic Energy Act of 1954 placed the responsibility of nuclear waste disposal on the federal government. Storage by the federal government presents a strong pro for nuclear power plants because it releases the plants from accountability. Once the waste exists under the discretion of the federal government, utility companies operating the nuclear power facility no longer need to manage, package and ensure the safety of the material. This pro, however, remains largely hypothetical because the federal government has failed to establish effective permanent nuclear waste storage sites. Each potential site meets public and congressional outcry: no one wants a massive radioactive waste site in their state. Moreover, centralized waste storage facilities necessitate long-distance hazardous waste transport. The potential dangers of transport leads to additional public outcry from all states the waste must pass through. Therefore, most nuclear waste remains at the power plant sites that generated the material.
Prolonged Financial Burden
Waste storage on-site presents a disadvantage to nuclear power plants. Many nuclear power companies decry the continued financial burden on-site waste storage necessitates. Because of the Atomic Energy Act, utility companies did not anticipate, nor accept, this persisting responsibility for the costs of storage and maintenance. Energy companies insist that this additional cost must pass on to the energy customers and attempt to rally consumer support for federal storage through emphasis of this additional cost.
Prolonged Responsibility
On-site storage infrastructure often remains suitable only for temporary waste storage in deep pools of water. Because of the unanticipated longer-term on-site storage needs, nuclear waste builds up in the storage pools. In response, the US Department of Energy allows nuclear power plants to store spent fuel in steel casks above-ground after one year of pool storage. During this prolonged on-site storage, utility companies must maintain responsibility for the nuclear waste management and public and employee safety. These companies prefer to pass such responsibility over to the federal government and focus on the creation of nuclear power.