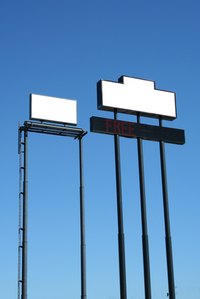 Road signs are everywhere, from small-town thoroughfares to interstate highways. The state of Pennsylvania has a lot of those signs and whether they're for traffic or business, there are rules and guidelines about putting them on public roads. Some signs need permits and some do not, but either way, business owners and residents who want to place their signs on state roads or highways must first check with the Pennsylvania Department of Transportation.
Sign Locations
Business signs that meet the rules on size, lighting and space between them can be built in certain areas of federally funded highways and major interstates. Restrictions are tighter for locations along state highways that are not federally funded; commercial signs cannot be on utility poles and they cannot be placed on a state road right-of-way without a permit.

Sign Permits
A permit is needed to place a sign on the right-of-way area of a non-federally funded state highway or if the sign advertises something that is not sold on the property of its location. No permit is needed if the sign is on a state route that doesn't receive federal financial aid. Businesses should contact PennDOT for specifics of a particular sign request.

Illegal Signs
The Pennsylvania Department of Transportation defines "encroachment" as the placement of an object, including signs, lights, walls and fences, in a right-of-way without prior permission. An illegal sign is the responsibility of the person who put it up and anyone else who allows it to be placed on their property. They can face fines of $500 per day if those signs are not removed upon request. The department will first send a letter to the owner(s), but if no action is taken within the time allotted, PennDOT can remove the sign, cite the owner(s) and recoup the costs.

Traffic and School Signs
Requests for school crossing, speed limit, stop and other traffic signs must go to the school districts or municipalities that are responsible for putting them up.

Roadside Memorials
PennDOT allows for roadside memorials that mark a crash site, as long as the items, like flowers or crosses, don't interfere with drivers or the roads themselves. Permanent memorial signs are not allowed but, according to the Pittsburgh Tribune-Review, PennDOT is reviewing programs in other states that allow this kind of sign.

Tips
•For more detailed information on sign requirements, businesses can contact PennDOT's Engineering District 1-0's office at 814-678-7085.
•To get a town, village or borough name on an interstate highway, individuals must contact the Federal Highway Administration.