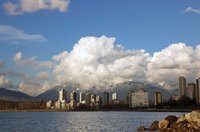 In Vancouver, the party doesn't stop just because the weekend has. Sunday nights in western Canada's largest city offer plenty of fun, whether you want to dance to a live band or hear a DJ spin. With most clubs open until 3 a.m., you can party well into Monday morning.
Republic
Republic is a chic, two-story bar in Vancouver's Granville Entertainment District. The main floor is dedicated to dancing, with a bar running the length of the club and DJ booths to boot. Enjoy table service on the second floor, or get even cozier on the glass-enclosed patio. As of August 2010, Republic's "Reggae Sundays" feature live reggae covers from DJ Ricco Uno and Retrofit. Upstairs on the patio, you can dance to hip-hop and funk from DJ Seko and DJ Kutkorners. Republic is open every day, from 9 p.m. to 3 a.m., and you must be 19 or older for entrance.
Republic 958 Granville Street Vancouver, BC V6Z 1L2 604-669-3266 dhmbars.ca
The Roxy
As of August 2010, "City Slickers" is The Roxy's Sunday night shindig, featuring "country music that rocks," according to its website. Open seven nights a week, The Roxy also has musical interludes from its house bands, Joe's Garage, Troy's R Us and X-Radio. The Roxy is open from 7 p.m. to 3 a.m. Guests must be 19 or older to enter.
The Roxy 932 Granville Street Vancouver, BC V6Z 1L2 604-331-7999 roxyvan.com
The Bourbon
Established in 1936, The Bourbon touts itself as a nightclub sans pretense. On any given night you can dance to a DJ or even a live band, and the club offers drink specials on Sundays. The Bourbon is open seven days a week, from 12 p.m. to 3 a.m. on the weekends.
The Bourbon 50 W Cordova Street Vancouver, BC V6C 3N8 604-684-4214 thebourbon.ca
Caprice Night Club
Caprice Night Club's motto is, "Turn your night on!" This sleek, three-story nightclub features dance music from resident DJs Johnny Jover, Marlon J. English and D-Spun. Caprice Night Club has a lounge area to kick back away from the dance floor, and it is open from 5 p.m. to 1 a.m. on Sundays.
Caprice Night Club 967 Granville Street Vancouver, BC V6Z 1L3 604-685-3288 capricenightclub.com