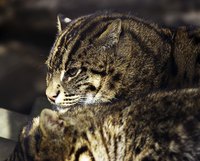 Hailed as the "new breed of the millennium" by the International Desert Lynx Cat Association, the desert lynx is rapidly gaining in popularity in America and Europe. The breed was originally created through the selective breeding of the wild American bobcat with domestic pixie-bob, manx, Maine coon or bobtail cats and the desert lynx is now a breed in its own right recognized by the International Progressive Cat Breeder Alliance.
Temperament
Desert lynx cats are loyal and smart with a friendly and outgoing personality. They are people-loving cats that keep their playfulness all through their lives. They have a relaxed attitude and enjoy games and cuddles. They are often described as having a temperament more like a dog's than a cat's as they are so laid-back and sociable.
Grooming
Although all cats will groom themselves and keep their fur clean, some desert lynx cats have long, or feathered coats, and these will need a little help. Regular brushing during the summer months when they are shedding their winter coats will aid the process and also help keep fur balls to a minimum. The desert lynx does not need to be declawed.
Environment
Desert lynx cats are happiest as indoor cats. They are active, however, and will behave more like a dog than a cat. They like to play, and will follow you around the house, as they become very attached to their owners. They are trainable and as well as normal litter training will eagerly learn such games as "fetch." They will also come when called.
Body Shape and Size
Lynx cats are large, muscular cats with strong hindquarters and large feet. They often have six toes. Their dramatic markings give them an exotic look which is enhanced by their broad noses and tufted ear tips. Tails can be of various lengths and according to the breed standards, docking is acceptable. Females can weigh up to 20 lbs. and males up to 25 lbs.
Other Lynx Cats
The highland lynx is very similar to the desert lynx, as it is a cross between a jungle curl cat and a desert lynx. They are also large bodied with an attractive wild appearance thanks to their ancestry, but have the distinctive curled ears of the jungle curl cat.