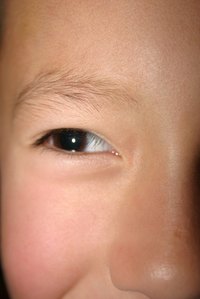 There are lots of reasons to pluck your child's eyebrows. Maybe he has a unibrow, or eyebrows that are big and bushy. But anyone who's plucked an eyebrow knows that it can really hurt, and no one likes to hurt his children. Don't let your child's complaints about pain stop you from giving her the look she deserves. With a few simple precautions, it's easy to pluck your child's eyebrows almost completely painlessly.
Open the Pores
Dampen a clean washcloth with hot water and dab it on your child's eyebrows. This will open up the pores and make the hairs easier to pluck. Make the water as hot as your child can stand without it hurting for best results.
Topical Anesthetic Gel
Apply a small amount of baby teething gel or a similar topical anesthetic like Orajel or mouth ulcer gel on the area you will pluck. The gel will numb the area and eliminate almost all of the pain.
Use Heavy Tweezers and Pluck Firmly
Be sure to use sturdy, heavyweight tweezers. That way the hairs will be easier to grab, and the job more painless. Pluck individual hairs in a firm, swift motion. Trying to go slowly will just make it more difficult and increase the pain. It is also more difficult and painful to try and pluck more than one eyebrow hair at a time.