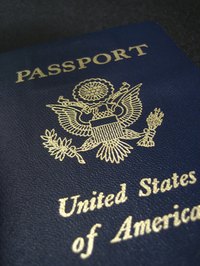 The U.S. Department of State Bureau of Consular Affairs provides detailed information on the various requirements for crossing borders into each country. U.S. regulations for crossing back into the United States generally require even newborns and infants to have their own passports when crossing by air. When crossing the border by land, a birth certificate is sufficient.
Birth Certificate
For border crossings into the U.S. by land, such as from Canada and Mexico, infants and children need only a certificate of birth, a consular report of birth abroad or a naturalization certificate, according to the U.S. Department of State. The birth certificate can be an original copy, photocopy or certified copy.
Passport
Even newborns and infants are required to have a passports when crossing into the U.S. by air. Parents must take their child in person to apply for a passport, and both parents must be present or present a notarized consent document. Parents must provide a birth certificate, consular report of birth abroad or naturalization certificate and must also provide proof of their relationship to the infant. Usually the birth certificate establishes the necessary proof. Other documents may include court orders of guardianship or adoption papers. Parents must also show valid ID.
Parental Consent
As part of the passport application process, parents must also provide consent authorizing the issuance of a passport. If both parents cannot be present to sign the appropriate forms, the absent parent is required to provide a notarized document indicating consent.
Adoption Regulations
Regulations may be different for infants crossing borders as part of the adoption process. Adoptive parents should work closely with the U.S. Department of State Office of Children's Issues to determine the requirements for taking an infant across borders.