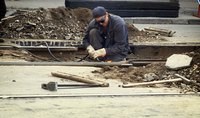 Ohio businesses must follow the regulations of the federal Occupational Safety and Health Administration, which provides health and safety guidelines for workplaces around the country. Ohio is not among the 26 states that implement their own health and safety rules as part of a state OSHA program. Instead, only the federal regulations apply.
Records
OSHA regulations stipulate that employers must allow employees to see any records the employer has regarding an employee's exposure to potentially harmful substances. Companies must use OSHA forms to record work-related illnesses and injuries and post summaries of those records in the workplace. Companies are exempt if they have 10 or fewer workers or operate in a field that OSHA classifies as low-risk, such as retail and finance.
Protective Equipment
Employers must provide protective equipment for all workers at no cost to the worker. Depending on the line of work, examples include helmets, goggles, earplugs and hard-toed boots or shoes.
Hazard Communication
Any employer whose business deals with hazardous materials must properly label containers that hold the materials. Employers must train workers in using the labels to identify and safely handle hazardous materials.
Reporting Accidents
A company must report a workplace accident to the OSHA within eight hours if the accident causes either a death or the hospitalization of at least three employees. OSHA may investigate the accident and rule on whether a violation of agency guidelines was a factor.
Enforcement
OSHA has the right to investigate companies after receiving an accident report or a safety complaint from an employee, as well as to conduct regularly scheduled investigations. The average penalty for a violation is $1,000, but some of the most egregious violations carry a penalty of $70,000. OSHA hopes to toughen sanctions.
Not Covered
OSHA does not cover a few categories of workers in Ohio. These include anyone who is self-employed, works on a farm where only members of the farm owner's immediate family work, or works at a place of employment covered by other federal agencies or laws. For example, mine workers have their own set of federal protections.