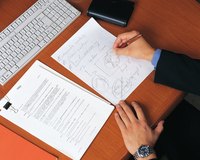 Running a business is a complicated affair. It takes time, patience, money and, perhaps most importantly, organization. Fortunately, those without strong organizational skills can take advantage of some of the myriad business software applications that have been developed to keep track of your business's finances, client lists, and even dictation. Most quality programs are an investment, however, so do your research before pouring money into a program you don't really need or can't use.
Accounting and Financial Applications
Every business, small or large, for-profit or nonprofit, must keep track of revenue, expenditures and taxes. There are so many things to juggle, from invoices and billing to payroll to taxes, so investing in a quality accounting and financial application can save your business valuable time with built-in calculators and data tracking. The right software can also save you from legal trouble by securely storing all your most important documents and setting up automatic reminders.
Some of the most popular accounting and financial applications include QuickBooks, Quicken and Turbo Tax. Usually, the bigger your company, the more complicated your finances. Choose a basic program for a small mom-and-pop retail business, or invest in a deluxe package with more features for an international manufacturing corporation.
Merchant and Point-of-Sale Applications
In 2009, more than 20 billion transactions were completed using a debit or credit card. Even small retail businesses or services that accept payment upfront will usually want some sort of application that can accept and track credit card payments.
You can save money by using an online merchant service, such as Paypal, if your business doesn't rely on credit card transactions for most of its revenue. Higher-volume companies can save more in the long run, however, by purchasing or leasing their own equipment and investing in on-site point-of-sale applications. Microsoft Point of Sale, Retail PRO and ECRS's Catapult are popular systems, some of which can be bundled with the necessary hardware to operate the applications. Quicken's Point of Sale software can also be linked with their financial and accounting applications, making record-keeping seamless and easy.
Productivity Applications
You may also need various productivity business applications, depending on the type of business you operate. While "productivity" can refer to a wide range of software, from video editors to speech-to-type applications to office suites, there are a few applications that nearly every type of business will need.
Microsoft Office or Mac's iWork programs are bundled productivity suites that include word processors, presentation software and spreadsheet programs. Large businesses may want to invest in networking applications such as Microsoft Professional (which is not bundled with Office) to enable remote desktop connections and join domains across a large network.
Specific productivity applications exist for a wide variety of businesses. Maitre'D is useful for restaurants, Adobe InDesign is a go-to for graphic designers and Visio Professional can simplify process management. Research your options and seek trial versions before investing if you are unsure of your needs.