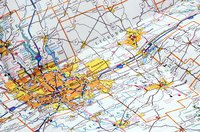 The term "redlining," in its most specific meaning, refers to the practice of marking out on a map urban areas in which a bank will not make mortgage loans. More broadly, the term has also been employed for discriminatory practices in lending and investing on the basis of race or sex.
Congress has addressed and sought to eliminate such practices repeatedly. Indeed, there have been accusations that its efforts to do so contributed to the housing bubble of the first decade of the 21st century.
Fair Housing Act
In 1968, Congress passed the Fair Housing Act. Section 805 makes it unlawful for lenders to discriminate because of race, color, religion, sex, handicap, familial status or nation of origin in making available "residential real estate-related transactions," or in the terms or conditions of such a transaction.
That language does not specifically prohibit the practice of "redlining" in the literal, cartographic sense. But judicial precedent soon expanded the significance of those words to include not only mortgage redlining but discriminatory loan foreclosure procedures and exclusionary zoning practices.
Community Reinvestment Act
The Community Reinvestment Act of 1977 required that federal agencies evaluate all banking institutions that receive insurance from the Federal Deposit Insurance Corp. (FDIC) on the basis of whether each lender is "meeting the credit needs of its entire community, including low- and moderate-income neighborhoods, consistent with the safe and sound operation of such institution."
Congress added greater specificity in 1989, creating a four-tier grading system for evaluating banks' CRA performance. The tiers are: outstanding, satisfactory, needs to improve and substantial noncompliance.
Home Mortgage Disclosure Act
In 1988-89, the "Atlanta Journal-Constitution" in Georgia ran a series of articles documenting racially discriminatory lending by banks and savings & loans in that city. Largely as a result, Congress in 1989 expanded the requirements of the Home Mortgage Disclosure Act, widening the definition of the lenders to whom the disclosure rules applied, and mandating that disclosure include lending patterns broken down by ethnicity and race.
Considerations
Some observers have claimed that the efforts to eliminate redlining and similar practices, and in particular the CRA, helped created the housing bubble of 2003 to 2007, and the financial crisis that followed.
John Carney, for example, has said: "The CRA was a factor in lowering lending standards. This was a necessary, although not sufficient, cause for the mortgage mess."
This contention is hotly disputed. Financial journalist Felix Salmon has contended that the CRA did nothing to "encourage banks to extend the kind of toxic loans which ended up being such an important component of the financial crisis. Indeed, most of those loans weren't made by banks at all—they were made by unregulated subprime lenders who had no CRA responsibilities."