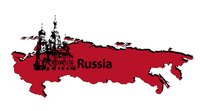 Even since the breakup of the Soviet Union, Russia remains the largest geographic country on earth. Spanning five time zones and reaching from the Arctic to the subtropics, Russian transportation crosses varied and challenging terrain. The Russian people have access to many transportation systems developed over centuries of road building, railroads and airport construction. Unlike the United States, where travel may involve just one transportation mode (car, plane, train), Russians may take advantage of all transportation types to complete a long journey.
Railroad
In the 19th century Russian czars were among the first monarchs to commit their nation to having good rail transportation. The Trans-Siberian Railroad, completed in 1908, linked Moscow and Ukraine in the West with Vladivostok in the East.
Rail transportation today involves freight and passenger trains, including many miles of city subways and tramways. Many Russian people are born, live and die without owning an automobile but they have readily available rail transportation to take them to within a few miles of any destination. By the end of the 20th century all steam locomotives had been replaced by diesel-electric power units or electric trains.
Air
The Russians have had an aircraft industry almost since the day the Wright Brothers first flew. Although well known for military aircraft, the Russian civil aviation industry rivals most competitors in the West. Aeroflot was originally a Communist Party-owned airline and the only available connection in the Soviet Union. Today the Russian government owns Aeroflot but several private operators also make inter-city and international flights. Tupolev and Antonov are the two leading civil aircraft manufacturers, supplying Aeroflot and other customers around the world.
Airports are available at smaller and larger Russian cities. Connections are regularly scheduled and few Russian airlines operate the "hub" systems popular in the West. A flight from Kiev to St. Petersburg, for example, does not route through Moscow or another city. Flights are direct.
Automobile
The Russian automobile industry did not have a good reputation during Communist control. Quality and efficiency issues made Soviet-built automobiles very suspect. Since the fall of communism, however, foreign and domestic investment has raised the quality of Russian automobiles while keeping prices low and affordable for Russian consumers.
As in the United States, the Russians were impressed during World War II with Germany's Autobahn roadways and made immediate efforts to produce superhighways. Limited-access freeways connect most large Russian cities in the West. In the middle of the country, however, road quality quickly diminishes. Although the roads are paved, well maintained and regulated, it is not uncommon to find one-lane roads in the Russian interior connecting small towns and cities. The Russian people, however, are used to driving under these conditions and use appropriate caution to see and yield to oncoming traffic