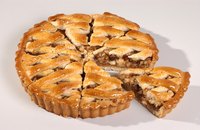 The organs that secrete digestive juices perform a great service to the human body. Without these organs' secretions, the human body would not digest food and absorb its nutrients properly. The digestive secretions of the mouth, stomach, liver, gallbladder and pancreas work together to ensure full and proper digestion of life-supporting foods.
Mouth
The mouth represents the front line in human digestion because it is the first point of entry for food into the human body. The mouth's salivary glands release digestive juices, called saliva, that work with the motion of the teeth to break down food. Saliva helps to moisten, lubricate and bind food to allow for ease of swallowing. Saliva also contains compounds that begin to break food down. For example, saliva contains alpha-amylase to help transform complex starches into simpler maltose.
Stomach
The stomach produces acidic digestive juices that break down protein. The stomach also produces mucous to line its walls in order to protect the stomach from its own juices. If the stomach does not function properly, the mucous may deteriorate, become susceptible to the stomach's digestive juices and result in an ulcer. Stomach acid works in concert with the stomach's muscle movements to churn and break down food.
Liver
After passing through the stomach, food enters the duodenum. A small duct, called the common bile duct, opens into the duodenum and delivers digestive juices from the liver, gallbladder and pancreas. The liver produces an alkaline bile to reduce food acidity, lubricate the intestine and emulsify fats for the intestine to absorb.
Gallbladder
The gallbladder stores digestive juices produced by the liver when not in use. Improper functioning of the gallbladder may lead to the formation of gallstones from stored digestive juices. Therefore, thorough secretion of digestive juices from the gallbladder holds high importance in human digestion.
Pancreas
The pancreas produces alkaline enzyme digestive juices that are capable of breaking down carbohydrates, proteins and fats. The pancreas breaks down whatever foods the mouth, stomach and liver could not digest effectively. Digestive problems occur, however, when improper functioning of the other digestive juice organs cause the body to rely solely on the pancreas for digestion. The pancreas becomes stressed and digestion remains incomplete.