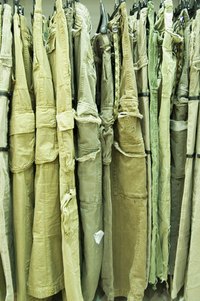 Keeping clothes organized and tidy will keep your schedule running like clockwork. Organizing the pants in the closet is a perfect starting point for the organizational process. Pants that are organized stay wrinkle-free. Because pants tend to be a staple in any closet, organizing them will preserve the longevity of the pants and save precious dollars in your personal wardrobe budget.
Organize By Color
Separate all of your pants by color. Use pants hangers to hang the pants. Hanging by the hems works well since it alleviates bulk at the top section of your hangers. Weed through your wardrobe and put away any pants that are not currently in season. Store them in airtight containers until needed. For instance, if it is winter, there is little need for cropped pants. Store these until the springtime. Hang all khaki pants together, all blacks together, all blues together, etc.
Organize By Length
Hang all of your pants according to their length. Put together any pants that are crops, ankle lengths, or longer lengths. Hang on sturdy pants hangers, attaching the clips at the waists, so that the pant lengths are visible when entering the closet. Hang the shortest lengths first and gradually hang the longer lengths in succession.
Use An Organizing System for Jeans
Purchase an organizing system that contains cubbies for shoes. Fold each pair of jeans in half lengthwise and roll upwards from the hem. Place each pair of jeans in an individual cubbie. Label each cubbie with the name of the jean and size. With jeans stored in this fashion, it will eliminate bulk in your hanging space. Hang the remaining pants in the closet with pants hangers according to color or length.