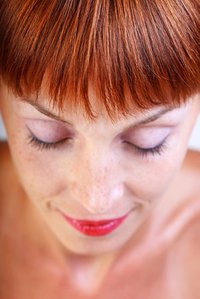 There is a misconception that only long hair can wear the most stylish of hairstyles. However, many short haircuts are just as fun and flirty as medium-length and long hair. Short hair can be easy to maintain and style: All it takes are a few accessories and some creativity.
Keep it Straight
Use a straightening iron to straighten your hair. This will provide a very different look for wavy or curly hair. If your hair is already straight, use the iron to polish it. It will give your hair a finished look. To straighten hair, simply take 2-inch sections of it and slowly pull the iron through your hair, from top to bottom
Use Barrettes and Pins
Barrettes and pins not only hold hair in place but come in variety of colors and styles that will match any outfit. They come with sparkling rhinestones, ribbons and even bows. For an easygoing look, grab a section of your hair in front, pull it back and pin it to the top of your head.
Get Layers
Layers provide short hair with style. A side part with layers shaping the face is an easy cut for any stylist to accomplish and it is easy to keep up. Layers and parts add shape to curly, straight or wavy hair.
Put on a Headband
A headband is by far the easiest styling accessory to use with short hair. There are plenty of colors, styles and materials available and all you have to do it put it on your head.
Color It
If you are looking for a major change, coloring your hair is the best way to do it. You can buy coloring kits at any beauty supply store or have a professional salon colorist do it, but double check to make sure that you do not have any allergies to hair dyes. According to a CBS news story from 2007, hair dye allergies have been on the rise due to the para-phenylenediamine, or PPD, ingredient found in the dyes.
Make Small Ponytails
Just because your hair is short does not mean that you can't have a ponytail. Instead of making one large ponytail, make a small one using just the top half of your hair. You can even make two small and low ponytails by splitting your hair in half and holding the sections in place with a rubber band.