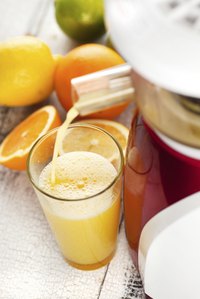 At first glance, juicing may seem like it couldn't possibly have any drawbacks. Fresh fruit and veggie juices deliver essential nutrients, taste good and are convenient to drink. And while it's true that juicing in moderation is a healthy addition to most diets, replacing too many meals with juice won't meet your nutritional needs and can even put your health at risk.
Incomplete Nutrition
Fruit and vegetable juices are high in carbohydrates but typically contain little or no protein and fat, both of which are essential nutrients in a balanced diet. That means if you go on a "juice fast" or "juice cleanse," you'll be missing out on essential nutrients that help fill you up, provide energy and maintain lean muscle mass. Juices also typically remove the skin and pulp of fruits and vegetables, which leaves them with very little dietary fiber.
If you buy commercially produced and bottled juice, you're also getting fewer micronutrients since the pasteurization process destroys many of them to eliminate bacteria and extend freshness.
Liquid Calories
Registered dietitian and nutritionist Joy Bauer writes that liquid calories are significantly less filling than calories from solid foods. So even though juices are made from healthy produce, you may end up consuming more calories by drinking them than you'd expect. Plus, all of the nutrients that are missing from juices -- namely, protein, fat and fiber -- are more filling than the carbohydrates in the drinks. Thus, if it's your goal to lose weight, you may do better by following a low-calorie diet than by replacing regular meals with juice. According to registered dietitian Lauren Blake, if you do lose weight by juicing, it's likely to come back when you begin eating normally again.
About Juice "Cleansing"
Some proponents of juice cleansing claim that by drinking fresh fruit and vegetable juice for days or weeks at a time, they are able to rid their bodies of harmful toxins. According to Blake, however, your body naturally rids itself of toxins, and going days on a juice cleanse can lead to nutrient deficiencies as well as dangerous metabolic changes. For that reason, it's important to get your doctor's approval before starting any type of juice cleanse or juice fast.
Health Risks
For most people, juicing in moderation is completely safe and even beneficial. If you are replacing regular meals with juice, be aware that side effects may include extreme hunger, irritability, dizziness, mood swings, headaches and fatigue. There is also a risk of bacterial contamination if you make your own fresh, unpasteurized juice. That risk increases with time, so drink any juice you make right after blending it.
Young children, the elderly, pregnant women and people with weak immune systems sustain a heightened risk for harmful effects from bacteria in fresh juice.