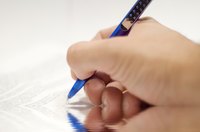 Quitclaim deeds are also called conveyance documents. These forms transfer ownership (interest) in a piece of real estate from the current owners to the new owners. Quitclaim deeds can also be used to simply add new owners. The process of completing a quitclaim deed is similar across the U.S., but there are a few variations to the rules in Iowa.
Declaration of Value
Most states require a property description be filed when a completed quitclaim deed is submitted for recording. This description must include property dimensions and structure details. However, in Iowa, to record a quitclaim, property owners must also complete and submit a declaration of value form. This will detail when the property was purchased, for how much, the current appraised value and any improvements made.
Clean Title
Iowa law does not guarantee a clean title when a quitclaim is filed and recorded. This means that any future owners on the property must conduct their own investigation on a piece of property prior to becoming added to home. For example, if a new owner unwittingly discovers that his new house has several tax liens, he will be responsible since he did not do due diligence when purchasing the home. All recorded liens on a piece of property can be found at the Registry of Deeds.
Groundwater Hazard Form
In addition to the declaration of value form, recorded quitclaims must also come with the groundwater hazard form. The person transferring interest in real estate (grantor) must complete this form. The form asks questions about potential contaminants on the property that could affect the water table. For example, if there is a private burial plot on the property or a privately managed human waste system, the deed may not get recorded until an environmental study is conducted.