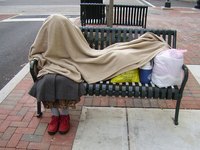 Homelessness is a not only a personal tragedy, but also a major social problem. Homeless people become unproductive members of society, living on the charity of compassionate citizens and welfare of the state. In addition, homelessness exposes that "something is rotten" in a society and needs to be fixed. While personal aspects of homelessness (individual factors, family background, etc.) are well-understood, structural causes are often overlooked.
Poverty
Poverty is arguably the biggest structural cause of homelessness. Poverty due to unemployment can trap individuals and can lead to homelessness—finding a job requires certain items, such a computer, telephone or a car, which poor people may lack.
Lack of Employment
When unemployment is high, the odds of some poor people becoming homeless increase. When people stay out of the workforce for some time, their skills dull, and finding a job becomes harder by the day. It is not always the individual's fault, and often there are indeed very few job opportunities in the area.
Foreclosures
Foreclosures represent another structural factor that contributes to homelessness. Foreclosures as a road to homelessness became particularly evident during the economic crisis of 2008-2009, as many sub-prime mortgages were seized by banks and the homes' residents were evicted.
Dismantling of Social Programs
As the welfare state is under attack in most developed countries, so are the social programs that help keep people away from the streets. Particularly helpful in fighting homelessness are programs of social housing—subsidized residences for the poor.