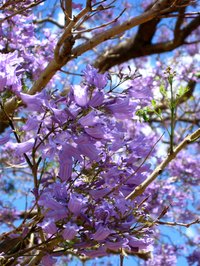 Tropical dry forests located in South and Central America experience very little rainfall compared to tropical rain forests. Annual rainfall can be as low as 20 inches and dry seasons can last up to eight months. Because of the limited amount of precipitation, the dry forests of South and Central America are home to many plant species that have adapted to survive both severe drought and fire. However, tropical dry forests contain fewer plant species than tropical rain forests.
Ceiba Tree
Approximately 10 known species of Ceiba trees exist. These trees grow in both the wet and dry tropical forests of Central America, South America and West Africa. Certain species can grow more than 200 feet tall, making them one of the tallest trees in tropical forests. These trees shed their leaves during the dry season. After the leaves have fallen off, they produce flowers that are either white, light pink or red. Flowering can occur as seldom as once every five years. Flowering typically occurs more often in drier climates, however. Specially adapted to dry climates, ceiba trees are able to store water in their trunks.
Jacaranda Tree
Approximately 50 known species of Jacaranda trees exist. Jacarandas are native to the drier areas of South America, Central America and Mexico. These trees can vary in size from 6 feet to 98 feet tall depending on the species. Jacarandas are either evergreen (possess leaves all year) or deciduous (lose leaves for part of the year) trees. Deciduous Jacarandas will lose their leaves during the dry season. These trees have feather-like leaves and produce trumpet-shaped flowers that can be purple, blue, pink or white. Jacarandas are popular ornamental trees for decorating gardens, parks and home landscapes because of their striking blooms.
Orchid
Orchids have approximately 30,000 known species. Many species of orchids are native to South and Central America and can survive the tropical dry forests. Oncidium is a genus (group) of approximately 300 species of orchids mainly found it the dry climates of South America and the Caribbean. Some Oncidium orchids can grow up to 16 feet tall. All orchids are perennial (lives for more than 2 years) plants. Orchids that live in dry climates possess thick waxy leaves in order to trap water. Orchid blooms are typically irregular in shape and come in many variations depending on the species. The blooms also come in a wide range of colors.