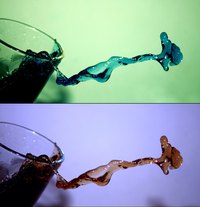 Since it became law in 1986, California's Safe Drinking Water and Toxic Enforcement Act—more commonly known as "Proposition 65"—has had a positive impact not just on California, but also on the entire United States, according to the state's Office of Environmental Health Hazard Assessment.
In addition to its prohibition against California businesses knowingly dumping dangerous chemicals into drinking water sources, the law mandates that businesses must notify consumers if their products contain such chemicals. This has raised public awareness about chemical hazards, and led to the national policy mandating that the labels of alcoholic beverages must state the dangers of consuming alcohol when pregnant.
Warnings and Labels
Proposition 65 forces businesses to place warnings on the labels of products that contain chemicals likely "to cause cancer or birth defects or other reproductive harm," according to the OEHHA. Companies may use such chemicals to make pesticides, household products, drugs, solvents or food. The chemicals might also be a byproduct of the customer's use of a product, such as motor exhaust.
Identification
If the OEHHA determines that a company is using chemicals that pose a "significant risk" to public health, the law requires the company to place a warning on its product's label.
Two committees of scientists and health experts, whose members are appointed by California's governor, make recommendations on chemicals that pose risks. These committees are The Carcinogen Identification Committee, and the Development and Reproductive Toxicant Identification Committee. The committees also take public comments into consideration when making recommendations.
The OEHHA may also decide to add chemicals to the Proposition 65 list if certain federal agencies, such as the Food and Drug Administration or the Environmental Protection Agency, identify them as carcinogenic or likely to cause reproductive harm. Additionally, the California Labor Code may identify chemicals posing such risks.
Compliance
To comply with the law, businesses responsible for chemicals that pose significant risks must post "clear and reasonable warnings" on their product labels. According to the Environmental Protection Agency's National Center for Environmental Economics, some businesses have attempted to avoid this requirement by creating toll-free numbers, or running newspaper ads about the chemicals instead of putting the information on labels, but the courts have rejected these efforts.