Spirit Airlines was the first air carrier to charge for carry-on bags. The company charges $20, $30 or $45 for a carry-on in 2010, depending on where you pay the fee and whether or not you are a member of one of Spirit's programs. Many airlines now charge for checked luggage, but as of August 2010, none charge for carry-on luggage. Spirit Airlines does not charge for many other personal items that can be carried on the plane.
Free Personal Items
A single personal item, such as a laptop bag, backpack or purse, can be carried on the plane free of charge, as long as the item fits under the seat in front of you. This item must be no larger than 16 x 14 x 12 inches. Some seats, like bulkhead seats, do not have a seat in front of them, and therefore have no under-seat storage. Spirit Airlines will not charge for the item in this situation, as long as the item would have fit under the seat had there been space there.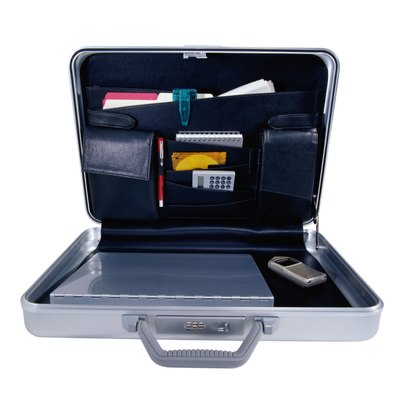 Exempt Items
According to Spirit's website, certain items are exempt and can be brought on the plane in addition to your carry-on and personal item. Food to be eaten on the flight, reading material, cameras, strollers, car seats, diaper bags, umbrellas, coats, hats and wraps are all exempt. For those with special needs, devices such as wheelchairs, walkers and medical units such as FAA-approved portable oxygen concentrators can be brought on the plane.
Paid Carry-on Bags
Paid carry-on bags must be no larger than 22 x 18 x 10 inches, and must fit in the overhead bin. These carry-on bags must also follow TSA guidelines to pass through security. Weapons, liquids or gels in containers larger than 3.4 ounces, large tools, certain batteries and many other items must still go in checked baggage.