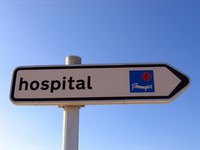 Acute rehabilitation centers are facilities that people transfer to after a hospitalization to receive specialized rehabilitation from a team of therapists and physicians. Most acute rehab facilities are located in a designated part of a hospital. Acute rehabilitation stays are covered under Medicare Part A. The Centers for Medicare and Medicaid Services (CMS) operates under the U.S. Department of Health and Human Services to set regulations for Medicare and Medicaid. CMS has specific requirements for what type of injuries acute rehabilitation facilities accept, the admission process and amount of therapy a person receives at the facility.
Types of Injuries
CMS requires that 75 percent of patients accepted annually to acute rehab facilities fall under one of 13 primary diagnoses. They are: stroke, spinal cord injury, congenital deformity, amputation, major multiple trauma, fracture of femur (hip fracture), brain injury, neurological disorders, burns, active polyarticular reheumatoid arthritis, systemic vasculities with joint inflammation resulting in significant functional impairment of ambulation and other activities of daily living, severe or advanced osteoarthritis and knee or hip joint replacement. The 75 percent rule automatically disqualifies people who may benefit from inpatient rehabilitation based on a diagnosis, according to the American Speech-Language-Hearing Association.
Admission Process
Preadmission screening is performed by a licensed or certified clinician and then reviewed by a physician before acceptance to an acute rehab facility is confirmed. A rehabilitation physician must complete an initial postadmission evaluation of a patient within the first 24 hours at the acute rehab facility. The physician establishes a care plan that sets medical and functional goals for the patient to achieve during his rehab stay. An interdisciplinary team that includes the physician, case manger or social worker, nurse and therapists meets weekly to reassess the goals and assess a patient's progress, according to CMS.
Amount of Therapy
According to CMS, "to qualify for an admission to acute inpatient rehabilitation, patients must require and be able to benefit from at least three hours of rehabilitation therapy" including physical therapy, occupational therapy or speech therapy. Patients must have a total of 15 hours of therapy over a week, usually three hours daily Monday through Friday. "Recreational therapy, music therapy, respiratory therapy, neuropsychology or cognitive therapy can be used to satisfy the requirement for patients to receive intensive rehabilitation therapy," according to CMS.