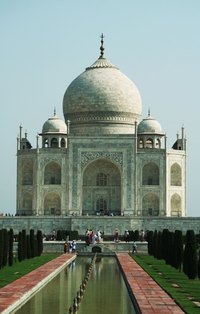 The economy in India is booming, with gross domestic product growth of over seven percent in 2010. This growth can offer opportunities for entrepreneurs looking to set up new businesses. In order to take advantage of this favorable climate, it is is necessary to understand the specific markets that are currently growing. They include, according to Maps of India, the agricultural, manufacturing, financial, and service industries.
Food Processing
India's agricultural growth has not been matched by growth in the area of industrial food production, so there is a market for food processing businesses. India is a net exporter of food products and produces 30 percent of the world's spices. As an incentive to encourage investments in this area, the Indian government has exempted food and vegetable processors from excise duties. With the second largest population in the world and a growing middle class that is eager to purchase processed foods, India offers a great opportunity for food entrepreneurs who want to enter the food processing industry, following in the footsteps of industry giants like Nestle, which has expanded its operations there.
Transportation and Logistics
India's manufacturing sector has grown thanks to international companies that have begun to outsource production to India for quality manufacturing at a reasonable cost. As a result, there is a need for companies that can facilitate the movement of raw materials and finished goods both throughout the country and between India and international markets. The Transport Corporation of India says there is a need for logistics companies to fill this role. To encourage this, the Indian government has allowed foreign direct investment in businesses. This provides the opportunity to set up transportation and logistics companies that can cater to this increasing demand.
Investment Banking
Because India's markets are growing rapidly (with an increase to gross domestic product of over seven percent and a consumer price index increase of nearly five percent in 2010, despite a global recession), there is a need for financial investments to bankroll various projects. An investment bank assists businesses to raise the capital that they need in order to complete their projects. An investment bank specializing in the Indian market does not need to be based in the country; in fact much of India's growth has been funded by foreign investments. The investment commission of India has indicated that there is a high growth potential for investment banks there.
Personnel Training Services
According to the International Monetary Fund, India is becoming a world leader in providing a variety of customer services, as with call centers dealing with financial transactions, reservations, or software support. As a result, there is a need to provide training for the personnel in these sectors. The training required is not technical training, which they have already, but the soft skills that are needed to provide services to customers in the Western world. These needs provide an opportunity to start a company specializing in personnel training. Indian Human Resource Development Minister Kapil Sibal has said that these services are essential for economic growth.