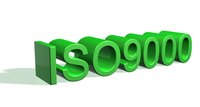 If an organization wants to be International Standard Organization (ISO)-certified, it must maintain a quality management system (QMS) for documents. The QMS needs to address the following: defining the kinds of documents, how to manage them and identifying the roles of who will approve, update and remove them. ISO consists of a family of standards that the International Standard Organization established. Its main focus is to develop a clear set of procedures that guarantees quality results. Organizations must provide detailed documents of their methods.
Identifying the Types of Documents
Before an organization can create a QMS, it is important to understand what a document is. A document must communicate information, it must be planned and executed and the knowledge must be shared. The organization must then identify the kind of documents that will be included in the procedure. Documents that can be included are the following: technical specifications, diagrams/flowcharts, organizational charts, production schedules and quality plans. In addition, documents can be in any format, including electronic, magnetic, paper or photograph.
Maintaining Documents
ISO requires that the organization documents how it approves and updates documents. In addition, the organization must identify who will oversee the documents. This person will be responsible for approving, updating and publishing the documents. In addition, this person must record the date when he approved or changed the documents. ISO requires that the organization use the most up-to-date versions.
Distributing Documents Throughout the Organization
The organization must document how documents are distributed. It must identify the employees who will be reading and using them. In addition, the organization must identify where the documents will be located. That way, employees will know where to go in case they may need to review them occasionally.
Classifying Documents
ISO requires that the organization document how it will classify the documents. The organization needs to set up a category system. It must classify documents by name, catalog number, version and serial number, location and how to retrieve it. The organization must document how to remove or destroy the documents when they are no longer needed or outdated. In addition, ISO requires that the organization provide backup methods for documents. It must document how it backs up the documents.