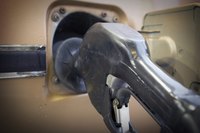 Many Ohio jobs require the time and use of your personal vehicle, whether it's to travel further than the office for a conference or down the street to pick up more paper. Running the occasional work-related errand on your own dime is pretty common, but for those who travel regularly for their employer outside of the commute to and from the office, mileage reimbursement can be a perk that should be established upon hiring.
Federal Regulations
On December 3rd, 2009, the Internal Revenue Service issued an article stating changes to the federal guidelines for mileage reimbursement. These changes went in to effect on January 1, 2010.
According to IRS.gov, the mileage rates for the use of a car, van, pickup truck or panel truck are divided into three categories. They include business miles driven, medical or moving purposes and services of or for charitable organizations.
Business Mileage
The rate per mile for business miles driven as of January 1, 2010 is $.50. This rate is slightly lower than years past and is based upon a study of the variable and fixed costs of driving and operating an automobile.
Medical or Moving Mileage
The rate per mile driven for medical or moving purposes has gone down slightly to $.16. This information has also been determined by the same study performed for the change in business miles and was conducted by an independent contractor named Runzheimer International.
Charitable Organization Mileage
The rate per mile driven for services of charitable organizations is now $.14. Again, this is based on the study performed by Runzheimer International.
Ohio Regulations
According to a lawyer from the New York and Connecticut Bar, there are no requirements set in Ohio for mileage reimbursement; therefore it is up to the employer to offer this perk to its employees. So it's important to establish the amount of travel that will be required early on in employment. If the salary given isn't enough to justify the travel but no agreement is in place, then the employee can be left to pay for gas and upkeep that they may not be able to afford.