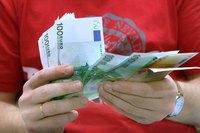 Financial aid is crucial to anyone starting a small business in the Republic of Ireland. Grants for those considering a new venture in Ireland are available from government agencies and private businesses. Whether a business qualifies depends on numerous factors, so a detailed business plan must be submitted with each grant request.
Financial Packages
Ireland has 35 county and city enterprise boards, which were set up in 1993 to help small businesses employing 10 people or under. The boards provide several types of grants, including Priming Grants to help assist businesses within the first 18 months of opening and Business Expansion Grants. Companies can also apply for funding for machinery and equipment, hiring staff and buying or altering a building being considered for a business venture. Anyone considering establishing a small business venture in Ireland may need to finance a start-up study to find out if there is market interest in their venture. Grants from the county and city enterprise boards are available to help fund these expenses.
Initial Costs
Enterprise Ireland, a government agency set up to help the development and promotion of new businesses in the area, offers grants to help fund the initial costs of setting up a business. According to the Borderwise website, some "high potential start-up companies" may also be eligible for financial aid from the government agency. These grants are available to any business providing "manufacturing or internationally traded services" and employing between 10 and 249 people.
Overseas Investment
Foreign businesses wishing to relocate to Ireland or establish an Irish branch may be eligible for a grant from the Irish Development Authority, according to Citizens Information in Ireland. The Irish Development Authority is a government agency responsible for attracting new investment from overseas. Employment and training grants as well as research and development grants are available.
Marketing Needs
Grants are available to companies specializing in certain sectors. The Irish Food Board provides grants to small and medium-sized food companies to assist with the marketing side of the business. Funds are administered through the Market Participation Program and the Marketing Assistance Program. The National Tourist Development Authority, Failte Ireland, provides funding for businesses specializing in tourism. Small arts-based businesses may be eligible for a grant through Culture Ireland, a national agency funded by the Minister for Arts, Sport and Tourism that administers grants to arts organizations involved in some form of public performance or exhibition.