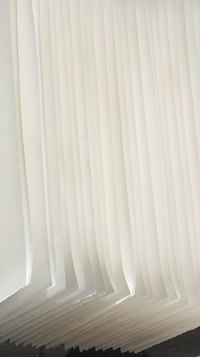 There are many types of paper that can be used for printing brochures, and the type you want to choose depends upon how much text you have, how you want to display your brochure, and how much you want to spend. These factors can help you determine your paper needs for your next brochure job.
Heavy Card Stock
Heavy card stock paper is usually used on brochures that are statement pieces, since card stock is a heavier weight of paper that would be used on a single fold brochure card or a greeting card. While regular computer paper is usually 20 lb. in weight, heavy card stock is 80 lb. weight or higher.
Glossy Brochure Paper
Glossy brochure paper comes in light gloss or heavy gloss, referring to how deep of a sheen you want on your paper. Normally the weight of the glossy brochure paper is 32 lb., a little heavier than a multi-purpose paper, but it prints much crisper, cleaner and brighter in color. You can choose different sizes of the glossy brochure paper to do a tri-fold or even quad-fold brochure, so more content and images can be displayed.
Recycled Brochure Paper
Many companies are now moving towards using recycled brochure paper. Recycled paper can be more noticeable that it is recycled due to its more rough nature. But as years go by, recycled paper has become more and more similar to regular, non-recycled paper. Recycled brochure paper can come in glossy or matte and in a light to heavy stock weight.