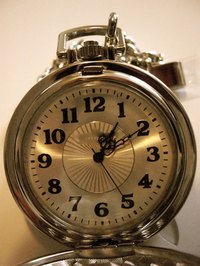 Retirement is a transition from a working life to one of relaxation. For those who spent their entire adult lives working, this new change in pace can come as quite a shock. Arts and crafts projects can help the retiree weather this new lifestyle. Retirement-themed arts and crafts projects can be completed by the person retiring, or as a personalized gift from a friend or co-worker to signify this new change in the person's life.
Retirement Survival Kit
Many retirement gifts are humorous send-offs for the retiree. One idea for an arts and crafts project that can be given as a retirement gift is a "Retirement Survival Gift." Included with the gift bag could be an itemized list with an explanation of its intended use. For example, you could include a jar with a few pennies contained inside. This could be labeled as the "retirement fund." Also included in the gift bag could be a small bag full of marbles, in case the retiree happens to lose his (without work to keep him busy, that is). Decorate the gift bag with photos or notes about the retiree's work life.
Hobby-Based Ideas
For many, retirement is about finally having time to explore the hobbies that you couldn't pursue because of a busy work schedule. Some popular retirement hobbies include golf, photography, sewing, knitting, painting and many more. Many arts and crafts projects can be based on these hobbies. For example, a retirement craft for an avid golfer could be to knit cozies for golf clubs. A retirement craft for a dedicated photographer could be a scrapbook, picture frames or even a hand-embroidered camera bag.
Memory Box
Retirement is about the beginning of a new phase in life, but there are many memories that can be preserved. A memory box can be given as a gift to a retiree, or created by the retiree himself. This box could be as simple as a shoebox, decorated with fabric or tissue paper for a unique look. Fill the box with mementos of work life. This could be photos of work events or office parties, quotes about retiring, plaques or certificates awarded during your career, or even lists of things you will remember about office life. This box can be treasured for years to come. Instead of a memory box, you could also paste these items into a retirement scrapbook.