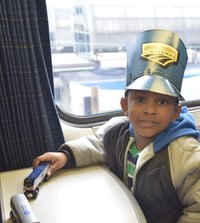 When it comes to passenger rail travel between New Jersey and Georgia, Amtrak is the only way to go. That's not a glowing recommendation -- Amtrak really is your only choice for taking a train between these two states. But you do have some choices concerning where you travel to in Georgia. Separate Amtrak routes provide service from two major cities in the Garden State to cities big and small in the Peach State.
The Routes
The only two Amtrak routes with stops in New Jersey and Georgia are the Crescent and the Silver Service/Palmetto. The Crescent runs between New York City and New Orleans; the Silver Service/Palmetto from NYC to Miami. The Palmetto train of the Silver Service route doesn't venture into Florida, though, only traveling as far south as Savannah, a city appropriately nicknamed "The Hostess City of the South."
Silver Service/Palmetto Cities
Savannah, one of Georgia's most visited tourist destinations, has a rich history and a Spanish-moss-draped coastal vibe. The downtown historic district is minutes from the Amtrak station, and the beaches of Tybee Island are only a half hour away. The only other Georgia stop on the Silver Service route is Jesup, a small city without any significant tourism draw. Newark and Trenton are the two New Jersey cities served by the Silver Service/Palmetto route.
Crescent Cities
If you want to reach Georgia's capital and largest city, Atlanta, by train from New Jersey, Newark and Trenton will be your embarkation points. The station in Atlanta is on Peachtree Street between Buckhead and Midtown, two of the city's most famous and vibrant neighborhoods. The only other Georgia stops are in the small scenic town of Toccoa near the North Georgia mountains and Gainesville, a city at the northern edge of the Atlanta metro area on crowded Lake Lanier.
Vacation Packages
Amtrak's package deals, known as Amtrak Vacations, include trips to Atlanta and Savannah from New Jersey. Both packages provide two nights of hotel accommodations after you arrive in either city. In Atlanta, you'll also receive an Atlanta CityPASS for admission into five of the city's top attractions. The Savannah package includes a trolley tour of the historic district and dinner at the legendary Pirates' House Restaurant, founded in 1753 and housed in one of the oldest buildings in Georgia. Package prices vary, based on your selection of accommodations and what season you plan on traveling.