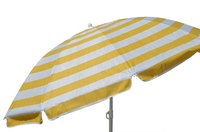 When you need to stay dry and presentable—you're walking outside to a crucial business meeting, for example—and a thunderstorm rolls up, it's important that you have a sturdy, efficient umbrella. When searching for any umbrella—whether it be a hand or travel umbrella or a large umbrella to cover a patio—there are plenty of companies that sell them. It is important to research the type, size and price when purchasing an umbrella.
Stromberg Brand
The Stromberg Brand has been manufacturing umbrellas for more then 65 years and has evolved into a global corporation with factories and offices in six countries and four continents producing several types of umbrellas. Stromberg's products include folding and golf umbrellas, as well as fashion umbrellas and patio and market umbrellas. The company sells umbrellas big enough to be used at theme parks. If none of its products suit a customer's taste, Stromberg Brand offers custom work.
Peerless Umbrella Company
Check out the Peerless Umbrella Company, headquartered in Newark, N.J., for hundreds of umbrella options. One is the company's eco-friendly umbrella. It is made of ecological fabric with a shaft of bamboo, which is among the world's most renewable resources. Peerless offers a small umbrella to protect a customer's golf clubs. The Drizzlestik has three height positions and is supposed to keep clubs dry in the most inclement weather. Peerless has sales offices in San Francisco; Atlanta; Toledo, Ohio; Kansas City, Kan.; Tampa, Fla.; Austin, Texas; Toronto; Montreal; and Vancouver.
The Ultimate Umbrella Company Inc
The Ultimate Umbrella Company Inc., known as TUUCI, is an international operation that has been selling umbrellas for about 10 years. It offers parasol umbrellas as well as large pavilion, lounge and anchor umbrellas. TUUCI specializes in umbrellas made with different shaft materials, including aluminum, hardwood, fiberglass and durateak. The company's U.S. headquarters are in Miami.