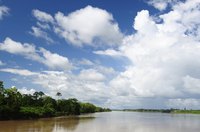 The Amazon river and its tributaries form a massive river basin that encompasses about 2.7 million square miles and winds through territory belonging to most South American nations. The Amazon River covers 4,195 miles from its source high in the Andes Mountains of Peru to the Atlantic coast in Brazil. The rivers in the basin also touch Bolivia, Colombia, Ecuador, French Guiana, Guyana, Suriname, and Venezuela. The river's territory primarily includes tropical rainforest that provides a rich ecosystem teeming with plant, aquatic, and animal life that also is a major economic driver for the continent and its people.
Brazil
Brazil is South America's largest nation both in land mass and population. The country was home to more than 202 million people as of July 2014. The Amazon and its rain forest make up about 40 percent of Brazil's land area, but this ecosystem is threatened by deforestation due to the nation's cattle and timber industries. Hydroelectric dams are a significant energy source in Brazil, but affect indigenous fish populations within the Amazon basin.
Peru and Bolivia
The Amazon River and surrounding jungle encompass about 63 percent of Peru's area. This region of Peru is sparsely populated, with settlements clustered along the river, where fish provide an ample food source. The region long has been a source of plants used in medicine, although coca production for the drug trade has taken over much of the land and resulted in deforestation and environmental devastation.
Bolivia is a land-locked country in the west-center of South America. The Amazon River region in the country's east is becoming an attractive destination for ecotourism, where river cruises allow visitors to view the rain forest and its abundant native wildlife, including pink river dolphins.
Ecuador, Venezuela and Colombia
Ecuador and Venezuela both are heavily dependent on the oil industry to support their economies, and both countries face environmental issues related to pollution of waterways from oil production. Deforestation of fragile rain forest ecosystems also is a concern in both nations. Venezuela's main river is the Orinoco, which connects to the Amazon basin via the Rio Casiquiare.
The Amazon basin encompasses a larg portion of eastern Colombia, and the rain forest and its ecosystem are home to many varieties of plant and animal life. As is true of in other South American nations, deforestation is a serious concern, as well as degradation of soil and water quality from pollution and pesticides.
Guyana, Suriname and French Guiana
Guyana and Suriname are among the smaller countries in South America in terms of land mass, and lie in the northern part of the continent bordering the Atlantic Ocean. French Guiana is a neighboring French territory that also borders the Atlantic. The Amazon basin encompasses only a tiny fraction of their territory.