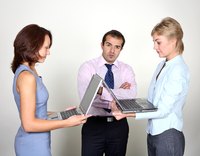 From your income to your employees, there are several things that indicate a business is failing. Seeing the signs can alert you so you can get your business back on the right track. The first two years are particularly tough for businesses, but even after many years businesses can still start to fail.
Money
Money is the first indicator that there is a problem with your business. If your business is losing money, you go into debt, or you are barely breaking even, there is something wrong. Check to make sure that there are no unnecessary expenditures because this can indicate a weak point in your business. This signifies mismanagement of money, which will bring a business down. Once you are in a financial hole, it will be harder to bring yourself out of it.
Employee Attitudes
Take note of the attitudes of your employees. If there is a general positive attitude around the office and your employees are happy, that is a good sign. However, when they seem disgruntled or become negative, this is a bad sign. Also, when employees are not happy, they may talk badly about your business which may deter people from wanting to work with you. Employee attitudes can also be a reflection of lack of recognition and lack of advancement. Make sure employees always feel valued.
Customer Value
In any business, taking care of the customer is of the utmost importance. When a business is failing, this can be because the value of the customer has shifted. If the customer is no longer always right but rather a nuisance, then your business will start to fail. This results in lost customers and revenue.
Internal Problems
When things start going wrong within the company, there are signs everywhere. This is signified by things like confidential memos leaking to the wrong people or bureaucracy taking over. Management should be spending more time working with their branch of the company rather than at headquarters. Also, talking about growing the company, but actually cutting costs on things sends the wrong message to employees and is a signal of a failing business.