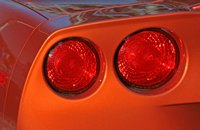 When selling different products in showrooms, the first impression customers get of the product is crucial when trying to convince them to buy it. So lighting a product in a certain way helps people form an initial impression about it. A number of different techniques and strategies can be employed when lighting these products in a showroom.
Dramatic Lighting
Dramatic lighting helps to make a product in a showroom or up on a stage stand out. It should draw the customer's eye to it. When selling a car in a showroom, for example, light the car brightly. Then lower the lights around it so that the car sparkles and reflects the light, making it stand out. The car shouldn't be too bright, just warmly lit. The darkness around the edges of the car will serve to highlight it. Have a solid, dark colored backdrop behind the car as well, so that the light projected on it can be contained. This allows you to use this dramatic technique with other cars or products in the showroom.
Ambient Lighting
When selling furniture in a large showroom, light the room with eye-catching lamps. Arrange the furniture to resemble a home or office. This lower, ambient lighting will create a mood, giving an example to all prospective customers of how the furniture would fit in their living spaces. By setting up the room, the furniture (and lamps) become that much easier for customers to want to buy and replicate a similar setup in their own homes or offices. Try to have lamps of different brightness and heights, ranging from desk lamps to floor lamps, lighting different areas of the room.
LED Lighting
LED lighting doesn't highlight showroom products, but it can add enough light for a display. However, the most important thing LED lighting does is save businesses a significant amount of money. Large corporations have begun doing this, saving money on electricity while protecting the environment. For example, Starbucks began using LED lighting in about 1,000 stores, saving 10 percent per month on its electricity bills. While Starbucks doesn't have showrooms, some stores selling products on the floor only need simple, flat light for customers to see the product.