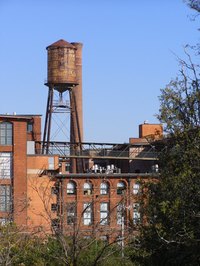 Six Sigma is a methodology, including data collection and statistical analysis, that helps organizations reduce the rate of defects in products and services. Invented at Motorola Corp. in the 1980s, this methodology includes methods for correcting problems such as ineffective employee performance and ineffective flow of products through the production chain.
A Six Sigma tool assists a professional who knows how and when to use it. Once information is entered into a tool, a manager or technical worker can use the results to make decisions. Misinterpretation of a tool's results can lead to changes in production, data collection, internal controls, objectives, work assignments and other routines or decisions, which can hurt the organization's success.
Processing Map
A processing map is a visual representation of a production process, work task, flow of information or other process. This map includes all steps in a process; it might provide users with decisions. For example, at a certain step, if one condition is true, a user follows one path in the chart; if a different condition is true, a user follows another path in a chart.
Looking at a process map from multiple perspectives suggests whether it is functional for the organization. For example, reviewing a process map from a customer's perspective reveals if each step adds value or not. Managers reviewing process maps can use a checklist to identify problems. Michael Lee Smith, director of process improvement at New Jersey-based Educational Testing Service (ETS), published an example which includes items such as checking for duplication, checking for lack of consequences (if standards are not followed) and whether a process creates, maintains or eliminates paper records.
Prioritization Matrix
A prioritization matrix is a chart created in a program like Microsoft Excel and consists of two axes -- horizontal and vertical. The horizontal axis is a numerical scale (such as 1 through 9). Each number represents a relative weight for any item in that column; the weight is relative to the number values in all other columns. The vertical axis is a list of criteria used to make decisions.
In his example on iSixSigma.com, Edward D. Carpenter II includes criteria such as service costs, ease of use for administration and ease of use for user.
Activity Monitoring
Six Sigma focuses on continuous business improvement. Managers make improvements at any stage of production at any time with activity-monitoring software. IBM offers a good example--the WebSphere Business Monitor offers a customizable dashboard for managers. Using this tool, managers monitor business activities of employees. The WBM collects information, such as how each employee or group performs on one or more Key Performance Indicators (KPIs). A manager can look at a dashboard and identify changes in Key Performance Indicators and contact an employee to ensure changes are made (such as addressing a below-acceptable rate on a KPI) before there is a significant impact on production.