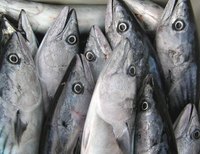 Aquaculture, also known as fish farming, is a growing industry and science that is expected to continue to expand in popularity, according to the National Oceanic and Atmospheric Administration. Along with providing a major source of the world's protein, aquaculture can foster sustainability and create jobs, according to NOAA. To help with projects at aquaculture campuses, the U.S. Department of Agriculture offers funding grants.
Aquaculture SBIR
Aquaculture is one of 12 subject areas eligible for federal grants from the Small Business Innovation Research program. Companies can receive between $70,000 and $100,000 for research and development projects to improve production and enhance efficiency.
Food Security
Aquaculture enterprises are eligible for grants from the USDA's Agriculture and Food Research Initiative. The initiative aims to combat hunger by using sustainable farming to increase food production. The USDA awards grants to nonprofit and for-profit businesses that want to develop programs that meet the AFRI's goals. The grants are worth up to $10 million.
Community Food
The USDA awards grants to businesses, including those involved with aquaculture, that seek to feed low-income families in their communities. Applicants can receive between $10,000 and $300,000 from the Community Food Projects Competitive Grants Program. Along with feeding the hungry, the program aim to help communities meet their residents' nutritional needs by improving infrastructure for agriculture, develop long-term plans and help market local agricultural and aquaculture industries.
Risk Assessment
Aquaculture businesses wanting to help the federal government learn how genetically engineered fish would affect the natural environment can apply for the USDA's Biotechnology Risk Assessment grants. Along with planning research projects to determine risks, projects can also involve developing monitoring engineered organisms or improving education about the organisms' introduction, among other goals. The grants are worth up to $1 million.
Organic Transitions
Universities and other research institutions wanting to further delve into organic aquaculture techniques can apply for Integrated Research, Education and Extension grants from the USDA. The grants, which are competitive, are worth up to $700,000. Every year the grants have a focus, so aquaculture businesses aren't always eligible. Grants issued in 2010, for example, went to research projects studying organic farming's effect on soil.
Contacts
For application information on USDA grants, contact:
National Institute of Food and Agriculture U.S. Department of Agriculture Waterfront Centre 800 Ninth St. SW Washington, DC 20024 202-720-4423 csrees.usda.gov