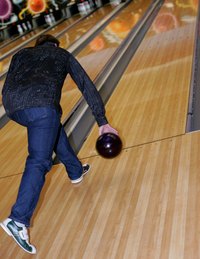 Bowling, like all businesses, must reach beyond its core audience to successfully grow each year. The best marketing ideas are those that allow a business to do just that. Look at your customer base and see who you regularly attract. If you have a family-oriented customer base, for example, develop your marketing plan to reach young singles.
Mall Promotions
Contact your local mall about a bowling promotion. Build portable lanes out of inexpensive laminate or use your own carpet lanes if you have them, and set them up in the center of the mall. Use plastic pins and lightweight balls. Have the mall create a "bowled over by the savings" promotion to tie in with the event.
Have several instructors on hand to give bowling lessons for free or work with a local charity, and have the bowlers give a one dollar donation to the charity in return for a five minute lesson.
Create prizes, including free lessons or free games, given to players who score highest or have a donation jar set up for the charity. Each donation, no matter how small, gives the donor the right to a raffle ticket. Raffle off a new ball or personalized bag.
Big League Fun
Work with your local minor league baseball team for a cross promotion. Give away free games of bowling on the back of tickets to the baseball game, and hold raffles for free baseball games during your league play. Have their mascot appear at your bowling alley, and host parties for the young fans of the minor league team.
Late Night Service
Set up a league late on Monday night solely for hospitality servers, such as bartenders, bus boys and waitresses. Because they typically work late, hospitality workers are looking for activities that happen after normal business hours. Create fliers and drop them off at local restaurants and bars. Offer special promotions to anyone who works in the service industry. If you serve liquor, talk to your supplier about handing out information to his other customers.