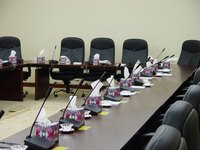 Media policies and procedures guide how the media will interact with a certain organization. The policies protect companies from hazardous media interactions. The media policies and procedures for organizations differ from organization to organization, though some rules have become standardized across the media industry.
Interviews
Media policies will determine how interviews are given to the press. They will either state that any agent of the organization is free to give an interview, or, more likely, it will state who you should contact to receive an interview. Common contacts include public relations or the marketing staff. Media policies will also regulate how far in advance interview requests should be made to be honored.
Publication Consent
Some media policies will have a requirement that before any content can be published based on information gathered from their organization, a publication consent form must be signed. This requires the journalist to send the copy to the organization for approval before it can be published. This is done to protect confidentiality of identification or trade secrets.
Accompaniment
Media policies often require that people visiting from the media--such as an editor or a journalist--be accompanied by a member of that organization at all times. This section of the policy will also include any check-in procedures that journalists must undergo before entering a facility.
Information Source
Media policies define what the sources of public information for an organization will be. Common methods of communicating information to the public include having an official spokesperson, press releases, newsletters or press conferences. The format of a press conference, identity of a spokesperson or the agency in charge of press releases should be covered in the media policies.
Audiovisual Policy
The audiovisual policy of an organization will be also be included in the media policies and procedures. This will define whether pictures or video recording will be allowed. It may further define what may be photographed and under what circumstances this media may be distributed.