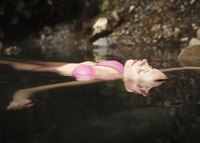 Washington's near-constant chill and drizzle can affect even the hardiest of travelers. One way to enjoy the outdoors despite the dampness is to soak in natural hot springs. Luckily for travelers to Washington, several hotels offer comfortable stays with access to pools fed by natural springs -- and they're surrounded by some of the Northwest's most pristine forests.
Bonneville Hot Springs Resort and Spa
Just beyond the mist and fog of the scenic Columbia Gorge sits the Bonneville Hot Springs Resort and Spa. The hotel's quiet hallways are immediately relaxing, and it's common to see guests padding down to the spa in hotel-provided plush bathrobes. The resort's 78 rooms feature private balconies and free access to the spring-fed, heated indoor pool, plus an indoor and outdoor hot tub for soaking after a long day of hiking in the gorge. The on-site restaurant, Pacific Crest Dining Room, focuses on Northwest cuisine, and a coffee shop sells snacks, breakfast items and espresso.
Carson Hot Springs
Not far from Bonneville sits Carson Hot Springs, on the Columbia River near the town of Hood River. The site dates to 1892, and does give the feeling of stepping back in time. Rooms feature certain luxuries like pillow-top bedding but you won't find phones or televisions inside. The property features several bathhouses, including one transformed from a 1901 hotel, and several cabins that date to the 1920s. There is also a golf course here and an on-site spa offering an array massages and wraps.
Sol Duc Hot Springs Resort
On the remote Olympic Peninsula, inside the rainforests of Olympic National Park, sits Sol Duc Hot Springs Resort. The family-friendly property includes three mineral pools at various temperatures and a freshwater pool, all free to overnight guests. The on-site cabins range from non-kitchen options to three-bedroom suites. The resort also has a cafe, restaurant, massage therapy service and two shops for gifts and sundries. Guests are positioned for hikes in the rain forest or scenic drives to the Pacific Ocean.
Goldmyer Hot Springs
Situated an abandoned mine shaft in the Cascade Mountains, not far from Seattle, Goldmyer Hot Springs is a bit more rustic. Access to the site involves a drive on 15 miles of unpaved road, which can become heavily potholed after a significant rain. Then, you must backpack 4.5 miles to the springs, which allows only 20 visitors per day. Still, this is a relaxing experience in a pristine forest, with soaks in 110-degree water. There's a small fee for camping and spring access, and it's not uncommon for bathers to dip in the nude.