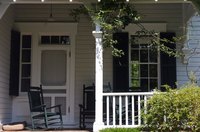 Hillsborough County is on Florida's southwest coast. With a population of more than a million people, the county is where you will find Tampa. As of 2010, the median income was $59,200 and the average price of a house was $176,816. There are several programs in the county designed to assist residents with a down payment for a new home. The programs are funded with a combination of federal and state money.
First-Time Home Buyer
Residents who qualify can buy a new home with a down payment of between $500 and $2,000, depending on income. To be eligible, the home must be in the unincorporated part of the county, or in the towns of Temple Terrace or Plant City. The buyer's household income must be no higher than 120 percent of the area median income, which was $59,200 in 2010. Other qualifications are that the buyer cannot have owned a home within the past three years, must qualify for financing, and must attend an approved home-buyer education course. Single-family homes, townhomes and condominiums, are eligible. Modular homes are allowed, but manufactured homes are not. The maximum purchase price must be below $150,575. The assistance is in the form of a second mortgage that the home buyer is not required to make payments on. If the buyer stays in the home until the first mortgage is paid, the second mortgage will be forgiven.
Hillsborough County Affordable Housing Department 1208 Tech Boulevard, Suite 300 Tampa, FL 33619 813-612-5397 hillsboroughcounty.org
Housing Finance Authority
The Housing Finance Authority of Hillsborough County offers a down payment and closing cost assistance program that offers a second mortgage of $5,000. The second mortgage can be used for down payment and closing costs. The loan is for 30 years at 0 percent. If the home owner moves out of the house or refinances the mortgage, the second-mortgage must be paid in full. The home can be a new or existing single-family home or condo anywhere in Hillsborough County. The home may not cost more than $258,690, as of 2010. To qualify, buyers must not have owned a home in the past three years and must have acceptable credit. The income limits are $63,831 for a one- or two-person family and $73,406 for a family of three or more.
Housing Finance Authority of Hillsborough County Hillsborough County Attorney's Office 601 E. Kennedy Boulevard, 27th Floor Tampa, FL 33602 813-671-7344 hillsboroughcountyhfa.org
Tampa
First-time home buyers in Tampa can get down payment assistance through the city's Housing and Community Development office. This program is similar to the county's program, in that it operates through a forgivable no-interest, no-payment loan. The maximum amount of assistance is $40,000 for a buyer whose income is 80 percent of the median income, or $33,250 for a single-person household. The loan is forgiven in 30 years.
Tampa Housing and Community Development 2105 N. Nebraska Avenue Tampa, FL33602 813-274-7954 tampagov.net