White mold is caused by the soil bacteria Sclerotinia sclerotiorum, though it can appear in places other than the soil or on plants--like on food and surfaces. It is easily recognizable by its white, fluffy appearance. Moist, cool and high humidity environments provide the most favorable conditions for white mold, though dry environmental areas (like the Southwest) also experience problems with it.
Exposure and Healthy Individuals
Most physicians agree that healthy individuals are not at great risk from low levels of white mold environmental exposure levels. Healthy individuals who ingest a little bit of white mold are also at little risk. If symptoms were to occur after ingesting, stomach upset would most commonly happen in the first 24 hours and diarrhea and cramping within a few days.
Some experts in the medical community, however, believe exposure to different molds, including white mold, may cause more serious problems in even healthy individuals, including fever, flu-like symptoms, respiratory problems, fatigue, headaches, dizziness, vomiting, diarrhea, excessive and frequent nosebleeds and liver damage.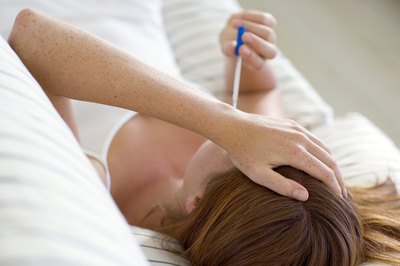 Exposure and Immune-Compromised Individuals
People with immune system issues, such as asthma, allergies, underlying lung diseases or other immune problems are at greater risk of problems from mold exposure than healthy individuals, as are pregnant women, young children and people with existing infections. Symptoms for these people can include skin rashes, itching, runny nose, eye irritation, cough, congestion, aggravated asthma and infections.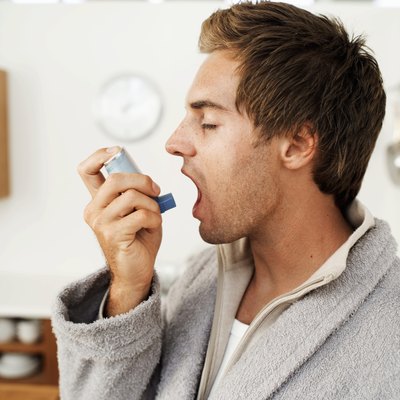 Reactions With Occupational Exposure
Some people work in environments that expose them to high levels of mold exposure, including to white mold. Farmers are a good example; white mold can inundate a field or infest hay. Intense reactions to these occupational exposures are similar to the intense reactions other individuals have when exposed. The difference, however, is that with long-term high-level exposure, some of those problems may be permanent.
Specific Allergies to Mold
Some individuals are allergic to mold specifically, the way other individuals are allergic to pollen or foods. Like other allergies, there are tests to determine mold allergies; the most sensitive, accurate, reliable, quick and least expensive option is skin testing.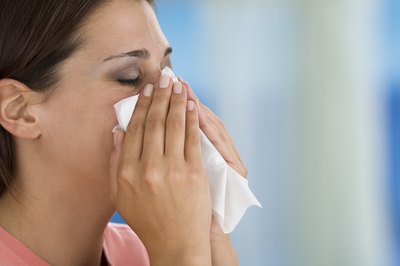 Mycotoxins
Fungi, including white mold, produce toxins called mycotoxins to defend themselves against other molds and bacteria. High levels of exposure to these mycotoxins can produce symptoms of toxicity, including respiratory and eye irritation, fatigue, headaches and nausea.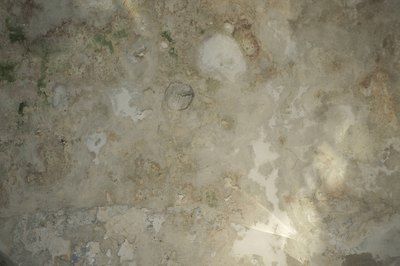 Microbial Volatile Organic Compounds
Microbial volatile organic compounds are released directly into the air, give off a strong and unpleasant odor and are the products of fungal metabolism. Though research on these compounds is still relatively new as of 2010, experts suspect they can cause eye, nasal and respiratory irritation, fatigue, headaches, dizziness and nausea.