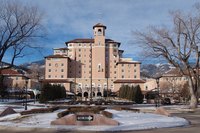 If you believe the saying "the customer is always right," you are equipped with the right attitude for success in hospitality management. Managers of hotels, restaurants and other service organizations must strive to provide a comfortable experience for customers. They must also manage a hospitality organization using the right financial, branding and service strategies for their business model.
Financial Strategy
According to Ronald A. Nykiel, author of "Hospitality Management Strategies," a hospitality organization adopts financial strategies based on a central mission and set of objectives. A hospitality organization is also driven by a need, such as a need for cash or for return on investment.
Hospitality managers should identify the organization's most important needs and choose financial strategies that will achieve those objectives. For example, you can adjust pricing for products and services, and conduct seasonal promotions to ensure a steady cash flow throughout the year.
You can also commission a survey to understand customer needs. Using the survey results, study the cost of implementing new services and reinventing existing services to respond to those needs.
Branding Strategy
Branding is a hospitality management strategy highly specific to each company. Executive search consulting firm Spencer Stuart notes that branding for hospitality organizations should be specific to location and property. This conclusion is based in part on the idea that consumers can use the Internet and other technology to target their choices for dining, travel and other services according to their individual needs. Managers should focus on branding and marketing based on the level of service at each location. Excellent service builds a brand and reputation at a location and encourages consumers to visit and consume so they can receive the same level of service.
Service Strategy
Customer service is the crucial component in hospitality organizations. Nykiel notes five key points for using customer service as a marketing strategy: (1) recognize points at which employees interact with consumers, (2) make a plan for successful customer service, (3) give employees who interact with customers many ways to "let the customer win," (4) evaluate whether employees are following the customer service protocols and (5) tie employee appraisals and pay to a customer satisfaction index.
In a small business, for example, this type of customer service plan is easier to assess because a business owner can observe how employees interact with customers. Larger businesses can also develop a systematic plan for customer service, spot-checking for effectiveness (for example, through the use of the mystery customer) and holding employees accountable. An organization may have to hire a consultant to overhaul the customer-service plan.