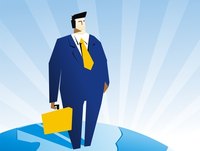 A centralized organization structure is one in which a large number of decisions are made by upper-level management and passed down through the ranks. It differs from decentralized organization structures in that there is less autonomy and less "big-picture" planning. Not only do upper-level managers set policy, they also are intimately involved in enacting it.
Consolidated Power
One advantage of a centralized staffing structure is that CEOs and other high-level management figures can consolidate their power. If a CEO sets a policy and then participates in the enacting of it, she can be assured it is carried out in exact accordance with her wishes. This contrasts with a decentralized staffing system in that the latter gives employees a great deal of leeway, and the ultimate result of a project or policy enactment might be profoundly different than the original plan. Not only does this deviate from the CEO's goals, it also undermines his authority.
Image Control
While centralized staffing structures are becoming rarer, they still are common in certain parts of organizations, if not the organization as a whole. These are the parts of the organization whose efforts affect the organization's image. For example, marketing and public relations divisions should all be saying the same thing, or else they will undermine one another and the company as a whole.
Centralizing these sections of a company allows the upper levels of that company to control what information gets out and what it says.
Efficiency
A major advantage of centralization is it can provide a level of efficiency. This is particularly true in large organizations that can achieve economies of scale. For example, if the accounting department of an organization and the IT department of that organization are given absolute autonomy over their decisions, they will procure office supplies and staff on their own. However, if there is a degree of centralization, these things can be coordinated--a company office supplier could be coordinated from the top levels, which would enable the company to buy in consistent bulk, which would in turn lower prices by increasing efficiency.