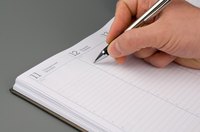 Companies use organizational structures to define their hierarchies and work flows. There are two basic types of organizational structures: the flat, or horizontal, type; and the tall, or vertical, type. The flat type is the older one and is often referred to as the traditional organizational structure. There are several reasons you might want to consider a flat structure for your organization.
Few Lines of Command
The traditional flat structure has very few rungs of command. The employees report directly to the company's senior management rather than having to go through middle management. This structure is popular with small companies because there is more one-on-own contact between executives and staff. Senior officers know about the strengths and weaknesses of all its employees because communications channels are open.
Employees Make Decisions
Employees in traditional organizations are given more responsibility to make decisions than they might in vertical organizations. Flat structures are popular with companies that want employees to customize products or services according to a customer's specific needs, rather than according to a company-wide template. The employees often feel more vested in the company because they are given so much trust and responsibility. This motivates them to do better work. The company also benefits because response times tend to be very rapid.
Middlemen eliminated
In traditional structures, the role of the middle manager is eradicated. As mentioned earlier, senior company officers deal directly with staff. By skipping the middle level of management, the company can operate more efficiently. And it doesn't end up paying unnecessary salaries.