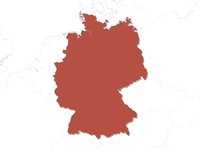 Germany's import duties are the same as in other European Union (EU) states. German customs officers only inspect goods brought in from a non-EU country. Standardized European Community (EC) customs regulations determine how much clothing, electronics, jewelry, vehicles, sporting equipment, extra fuel and raw materials travelers may import. While import duties are standardized, importing products into Germany may be more expensive as customs officers may charge an additional value added tax on top of existing duties.
Importing Electronics
EC customs regulations permit visitors to import a limited number of electronics for personal use duty-free. These include laptop computers, USB memory sticks, hand-held devices, MP3 or CD players, as well as digital cameras. Importing a larger number of electronic products intended for sale in Germany carries an import duty of 14 percent. A separate 4.2 percent tariff applies to professional cameras. Duties on all imports are calculated based on the product price listed on the original invoice. The invoices must accompany any merchandise brought into Germany.
Duties on Clothing, Shoes and Jewelry
Other than clothing, shoes and jewelry imported strictly for personal use or as gifts totaling less than 300 euros, visitors must pay EC duties on all items brought in from outside the European Union. Clothing produced from textiles carries a rate of 12 percent while leather products are taxed at 4 percent. Imported shoes from synthetic or man-made materials cost 17 percent in import duties while leather products may be imported at a rate of 8 percent. Customs officers tax gold and silver products at 2.5 percent while the charge for other jewelry stands at 4 percent.
Vehicles and Sporting Equipment
Customs officers add a 10 percent duty on all new cars imported to Germany while the tariff applied to motorcycles and quads ranges from 6 to 8 percent. New bicycles imported into Germany carry 14 percent in duties, but the tax on all other sports equipment is significantly lower, between 2.7 and 4.7 percent. Up to 10 liters of extra fuel transported in sealed containers may be imported duty-free.
Importing Publications and Recordings
While most publications may be imported duty-free, Germany's value added tax (VAT) applies to most merchandise. Visitors importing books for sale must pay 7 percent in VAT on each item, but photographs, posters and other prints may be imported entirely free of charge. Unlike books and magazines, importing CDs, videos, DVDs or music cassettes carry import duties of 3.5 percent.