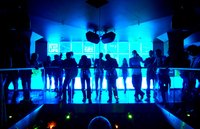 Several clubs in Richmond, Virginia, offer friendly and accepting meeting places for Richmond's gay community. People interested in dining, dancing and live music will find their needs met. Some clubs also offer activities such as karaoke, pool, TV trivia and drag shows. From a quiet night out to lively and raucous, Richmond's gay clubs have something for everyone.
Barcode
The Barcode club and restaurant has been providing a friendly and comfortable atmosphere for Richmond's gay community since its opening in November 2001. Barcode attributes its success to the original owners' exceptional business sense and his emphasis on hiring a loyal and professional staff. Barcode is open every day of the week with no cover charge. After 9 p.m., the club only serves people 21 and older. Barcode offers entertaining weekly events such as karaoke on Sundays, taco nights on Tuesdays, live jukebox nights on Wednesdays and martini madness on Thursdays. Barcode's lunch and dinner menus feature burgers, sandwiches, salads and steak.
Barcode 6 East Grace Street Richmond, VA 23219 804-648-2040 barcodeva.org
Godfreys
Located in downtown Richmond, Godfreys Restaurant and Nightclub offers a personal atmosphere where everyone from the bartenders to the managers engages with the customers. Patrons (over 18) are personally welcomed and invited to dance, eat and enjoy the weekly events. Godfreys famous drag queens take the floor every night to perform drag shows. Godfreys has fully stocked bars for people 21 and older. Brunch, dinner and late-night snacks are served. On Sundays, customers can enjoy the Sunday Drag Brunch where an excellent meal of French toast, eggs Benedict, fruit, salad, salmon, and quesadillas is served, accompanied by performances by Godfreys drag queens. Brunch is served from 11 a.m. to 2 p.m. and reservations are required. The Dinner Show, which runs the first and third Saturdays of each month, features gourmet meals and wine in addition to the drag show.
Godfreys 308 East Grace Street Richmond, VA 23219 804-648-3957 godfreysva.com
Nations
Nations gay club strives to create a memorable experience and build relationships among people of all races, religions and sexual orientations. According to Nations myspace page, the club strives to offer an upscale experience, with live music and weekly events. Nations is a restaurant by day serving brunch and dinner, and a nightclub after the sun goes down. On Monday nights, patrons can enjoy free pool. Tuesday nights feature pizza. On Wednesdays, clubgoers can play Deal or No Deal, with the chance to win $200. Thursdays, Nations offers karaoke. Dancing is the attraction every Friday and Saturday night. The cover at Nations is $5 and you must be 21 years old to enter. Nations also hosts parties, company events and special occasions.
Nations 2729 West Broad Street Richmond, VA 23219 804-257-9891 myspace.com/nationsofrichmond
Artist Underground Café
A unique club, the Artist Underground is part restaurant, part art gallery and part college hangout. Located in the basement of the Stuart Court Apartments, the club features a menu of homemade deserts, pizza, burgers, and salads with special food discounts for students. The Artist Underground Café has occasional poetry readings in addition to live music, a full bar, karaoke, drag shows, poker nights, and art galleries. Students in Richmond also appreciate the free wireless Internet.
Artist Underground Café 1600 Monument Avenue Richmond, VA 23220 804-213-0185 sites.google.com/site/artistundergroundcafe/